Aronofsky's The Fountain
According to Ain't it Cool News, Brad Pitt has walked out of Darren Aronofsky's The Fountain (this has also been confirmed by Variety). Joaquin Phoenix might step in.

Although the script is kept tightly under wraps, Ain't it Cool News has already published a review about it, which contains the plot (and probably spoilers).
Richard Harris Ill
According to IMDB, 71 year old Richard Harris may
have to be replaced in the third Harry Potter, which starts shooting in January, as fears for his health grow. Harris was hospitalized last week and is suffering from pneumonia. He completed filming the second Harry Potter, but a double was needed for some scenes when he was feeling ill.

Harris is signed up to appear in all 7 films based on J.K. Rowling's books. While the favorite to take over is unknown, Harry Robinson, 72, is the spitting image of Harris and has appeared as his double in the previous two films.
Howard Shore's LOTR Voted Best Score ever
According to IMDB, Howard Shore's score to The Lord of the Rings has been voted the best film soundtrack ever by the UK radio station Classic FM. 52,000 listeners have participated in the poll.

John Williams' scores to Star Wars, Schindler's List and The Empire Strikes Back took the second, third and forth places, respectively.
Others in the list: Gladiator, Titanic, Doctor Zhivago and 2001: A Space Odyssey.
Spider Screenings
Again, the UK'ers are the lucky ones. Spider was showing the day before yesterday in Frightfest (at 21:00, if you can get back in time), which took place at the Prince Charles Cinema in London's West End.
And for those of you who are in Canada and plan to visit The Toronto International Film Festival, which opens next Thursday, here are the details for the screenings of Spider:
September 9: Roy Thomson Hall, 21:30
September 10: Uptown 2, 12:00 (noon)

More details here.
Quick Ones
• According to E! Online, Michael Jackson now has a 6-month old son, named... Prince Michael II (which, according to the magazine was conceived "the natural way"). He already has a 5 year-old son named Prince Michael and 4 year-old daughter called Paris Michael Jackson. "Speechless" is the word you're looking for.

• Roger Moore's daughter, Deborah Moore (38) will have a cameo in the new James Bond movie, Die another Day, as an air hostess.

• Jason Priestley is in stable condition and has been moved out of intensive care.
Superman; Jamie Lee Curtis Poses; De Niro Sues; Gellar Marries
• Director Wolfgang Peterson might direct a movie about Greece before making Batman Vs. Superman. Meanwhile, a Superman V is on its way and will probably be released before Batman Vs. Superman.
• To show other ladies that she's not a perfect 43 year-old, Jamie Lee Curtis insisted on posing for More magazine with no make-up, no hairdressing and no touch-ups, wearing nothing but a sports bra and spandex brief.
• Robert De Niro filed notice of a $1 million lawsuit over a photograph of him and Sean Penn blowing out their birthday candles (they were both born on August 17) at a private party last year.
• Sarah Michelle Gellar and Freddie Prinze Jr. are set to marry this weekend.
I have to make the Word be Flesh
There it is... the VHS rip of David Cronenberg - I have to make the Word be Flesh (1999) - over an hour of fascinating one-on-one interview with our favorite director, made in 1999 and broadcasted on the french TV channel ARTE.

It took me a long time and quite a few attempts to rip this one the way I wanted to. I think the result came out good. One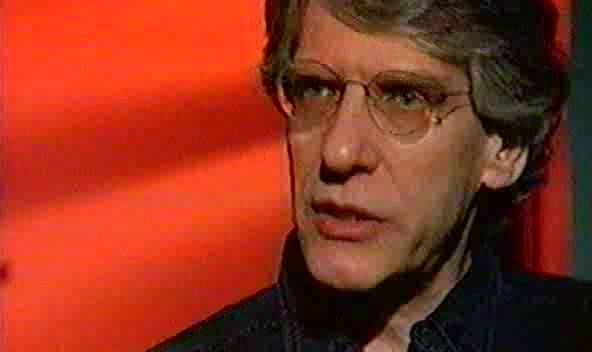 of my own requirements was a strict file size, because I wanted it to fit right into 1 CD with... (prepare yourself) my planned rip of the documentary Naked making Lunch, which I hope to make in the near-future.
This interview isn't built in "segments" nor does it focus on a particular movie. Instead, the focus is on Cronenberg's philosophy and his unique view of life. That's what makes this interview so interesting and different than most of the others.
As the people who worked with him testify, Cronenberg is clearly one of the most intelligent film-makers working today. This interview demonstrates it very well - The philosophy, the innovation, the variety of fields of interest. You won't find them in many of today's film-makers.
Stepping into the bizzar side of this short review, I should mention that hearing Cronenberg speak is a real pleasure... there's nothing sexual about it, but listening to him talk in this interview is very relaxing. I should stop right now - already noticed you took one giant step backwards

More info about this interview on IMDB, Jam! and of course, in this site's page of this interview, which you can always find in the Movies section (under Documentaries/Interviews).
Some technical specs:
Source: VHS (TV Broadcast) with French subtitles
Video: 592x352, 25 FPS, DivX 5.0.2, 800Kbps
Audio: mp3, 64Kbps CBR mono
Length: 66 Min
Size: 393MB
Download it now: I have to make the Word be Flesh (1999) - 393MB
Teaser: A special Cronenberg treat is on its way... (no, it has nothing to do with Spider)
Spider Interviews
The Cronendrome site draws our attention to 2 Cronenberg interviews, discussing Spider in Cannes.

Here are the direct links:
The first interview (1:18) is 2.8MB, and contains clips (spoilers?) from the movie.
The second interview (6:12) is huge - 25.4MB and in addition might cause problems while playing.
Notice these are streaming clips. If you have slow connection and/or want to download them, I highly recommend that you get the tiny yet very useful ASFRecorder.
Woody Allen to Appear in New York
Woody Allen will make a rare public appearance at the 92nd Street venue in New York to discuss the role of psychoanalysis in Annie Hall and Manhattan.
Jude Law Drops Superman; The Mask's Sequel; Patricia Arquette going to marry
• Josh Hartnett has replaced Jude Law as Superman in Superman vs. Batman. Law has rejected the lead role because Warner Bros. wanted him to sign for the sequels while he wanted to cimmit to the projects individually, based upon the quality of their scripts.

• Director Larry Guterman might direct Son of the Mask - an indirect sequel to The Mask. Jim Carrey and Cameron Diaz are not expected to reprise their roles.

• Patricia Arquette (Nicholas Cage's ex-wife) is going to marry actor Thomas Jane.
DK's Recommendation: Crimes and Misdemeanors
A huge thanks to the great Schubi for this one.
Crimes and Misdemeanors (1989) is my favorite "serious" Woody Allen movie, after Husbands and Wives. Or maybe I should say "semi-serious", because it's actually built like a mix of two movies - one is totally serious and "heavy" and the other one is very funny, but both deal with very serious issues.
Like in Husbands and Wives, Allen gives very interesting and sincere views over life and the relations between people. I especially like Cliff's relation with his niece (which, if you wondered, is totally non-sexual - as oppose to the relation with Rain in Husbands). And the tense relation between Judah and his brother is "brutally" honest.
This is probably Martin Landau's best performance after Ed Wood, and the rest of the cast is full of excellent actors: Allen himself, Anjelica Huston, Mia Farrow, Alan Alda, Caroline Aaron, Jerry Orbach, Martin Bergmann (as Professor Levy) and more. Look also for a cameo appearance by Daryl Hannah.
DK's rating: 9.5/10
Crimes and Misdemeanors
Priestley improving; Cage Marries
• Jason Priestley is getting better and is expected to fully recover from yesterday's crash.

• Nicholas Cage married Lisa Marie "I married Michael Jackson" Presley.
Jason Priestley Fractured his Spine in Practice
Actor Jason Priestley (Beverly Hills 90210) crashed head-on into a wall at close to 180 mph during practice for a race and is in serious condition with a head injury and a broken back.

More info on CNN.

...And some more depressing news today: Charlton Heston has Alzheimer's symptoms.
Quick Ones

• According to The Hollywood Reporter, Ewan McGregor and Albert Finney have signed to play in Tim Burton's next movie, Big Fish. Filming is scheduled to start January, in Alabama.

• Jennifer Connelly has engaged to actor Paul Bettany, who played with her in A Beautiful Mind.
DK's Recommendation: Ghost World
This movie gets better every time you see it. Big laughs and some serious issues in this 2001 movie.

Original script and excellent direction and cast make it a delight. With Thora Birch, Scarlett Johansson, Steve Buscemi, Illeana Douglas, Brad Renfro and the hilarious Dave Sheridan as the redneck Doug (which you can also see playing the exact same character, as the taxi driver in the recent Red Hot Chili Peppers' video By the way).

DK's rating: 7.5/10
Ghost World (576x304)
Ed Wood DVD Update
According to The Digital Bits, Buena Vista's recently announced Ed Wood DVD caught the notice of none other than the film's director, Tim Burton. The good news is that Burton's decided that he would like to add more content to what was already announced. The bad news is that, because of this, the disc will probably be delayed until early 2003.

The DVD that was originally planned to be released on August 13 was suppose to contain new audio commentary with Tim Burton and Martin Landau, a featurette called Pie Plates over Hollywood and a music video.

(Thanks to Patrick Meaney)
Quick Ones
• Jodie Foster is going to direct a movie about controversial female Nazi film-maker Leni Riefenstahl (Hilter's favorite), despite protests of The Jewish Defence League.
• Jennifer Lopez is going to marry Ben Affleck next spring. Ahm...
Cronenberg Site Seeking an Owner
Matt, owner of The David Cronenberg Web Archive (the oldest Cronenebrg site on the web - exists since 1994), is looking for someone to take over his site, since he no longer has the time for it. So if you're a big fan, email him. Access to the server is easier if you live in the UK.
Site Statistics
Some statistics about the site and its visitors:

• The site contains 781 files, weighing 11.8MB.
• It had 82 polls so far.
• It had visitors from at least 37 countries.
• It currently has about 24 unique visitors daily.
• Most of the known (that also means excluding US) visitors are from (in order, from left to right):
















As always, you can take a look at the News Archive (link is at the bottom of this page) to see the site's history.
DK's Recommendation
Crimes and Misdemeanors (1989)

See more details on August 12.
DK's rating: 9.5/10 | DVD | Download
---
DK's Recommendation
Ghost World (2001)

See more details on August 6.
DK's rating: 7.5/10 | DVD | OST | Download
---
DK's Recommendation
Magnolia (1999)