Videodrome rip released
A huge thank you to ashcroft for providing the rip to Videodrome and to pochtron and Schubi for providing the "infrastructure". I love you, guys! ;)

Reminding you that the new cover for the movie is in the covers section.

P.S.: With absolutely NO thanks to Bob!
Cronenberg about Spider and Fiennes
Cronenberg was drawn to Spider by "the combination of the character, and the tone of the script, and Ralph."

"I wouldn't do (this project) with another actor. Usually I don't think of a specific actor for a project, but in this case it was different. It was so Ralph. And it's not anything I would have written myself, but I related to it very strongly."

(From The Hollywood Reporter, February 2001)
Painkillers new sections and news
Cronenberg's upcoming movie Spider, which will premiere in Cannes 2002, changed its status in the FAQ. Since there are more and more news (rumors?) about Painkillers, it will now be the "next movie" instead ;)

See Painkillers (and Spider) in the FAQ for the latest news and updates, including a release date for Painkillers!

New section for Painkillers in Behind the Scenes. To begin with, you'll find there 12 photos of Orlan. I did not put the surgery photos that might make you lose your lunch. If you're planning on becoming a doctor soon, see this page, that page, another page or others on the net.
New Videodrome cover
Made a new DivX cover for the upcoming Videodrome rip. See Covers.
New Spider Photos
9 new Spider photos added.
Results for Banners poll
100% of the voters prefer the static banner on top. No change in that area, then.
Billy Wilder dead at 95
Legendary director/writer Billy Wilder has died at age 95. Wilder, a holocaust survivor, was nominated for 21 Academy Awards in his life and won 7. He was the first director to win 3 Oscars in one year. See report in CNN.
New Chat applet
I put up a completely new Chat applet. This time it's an IRC applet, so it's much better than the previous ones. There's a good chance to find me or other guys on the #PlasmaPool channel (especially in the evening/night GMT). If not, you'll ALWAYS find people to talk to on the #ShareReactor channel. You may use your favorite IRC client instead.
Right now you have to stay in the same window to chat. I'll make it pop-up into a new window soon.
New scripts/book section
Added a new section, Scripts/Books, with on-line scripts, novels and links to books on Amazon.
eXistenZ rips compared
I put up a Comparison Page for the two rips of eXistenZ. Looking at it, it's obvious the two are taken from totally different sources, especially when it comes to color saturation, sharpness and details (e.g.: look at the window in the background, below).

Cronendrome updated
Check out Cronendrome for some news.
Welcome to the new residence of The Plasma Pool at

PlasmaPool.esmartweb.com
OK, so it's still not PlasmaPool.com (this address is already taken, by the way), but it's shorter than the previous address, and it's much easier to remember. I hope you like it.
---
Now, while we're on the subject of the web host, I need your opinion on the type of banners: You're already familiar with the banner on top (the one you see right now). There's another option, in which the banner on top is gone, but instead you'll get a pop-up for EVERY page you go, which is quite annoying, but you can get rid of it easily - see the last question on the "Site" section in the FAQ. So please vote for it on the special poll.
• British comedian and actor Dudley Moore has died at age 66 at his home in the United States after a long illness. See report in CNN.










• If you watched the Academy Awards on Sunday, you should know that it was the longest Oscars ever (4:16) and had the lowest rating ever (25.4%)
• Waldpfifferling is sharing a new rip of eXistenZ. This one is AC3 5.1, DivX 5, 512x276, 93 min. Quality is claimed to be terrific. Reminder: The previous release was 24fps, 97 min, 583 key frames, 128Kbps stereo with screen resolution of 544x368, but not cropped on top/bottom, so the actual resolution was 538x278. Notice the new release is 4 minutes shorter - my guess is that the end credits are missing. Please give feedback if you get this rip.
• "O pointy birds, o pointy pointy, Anoint my head, anointy-nointy"
Rings a bell? You'll find this poem and In Dillan's Grove, by John Lillison (England's greatest one-armed poet) in the new release of the great Steve Martin comedy The Man with Two Brains (1983). See DK's Recommendation on the right.
• Updated Howard Shore, Ronald Sanders and Jeremy Irons in Cronenberg's Regulars.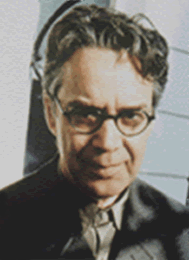 • HowardShore.com is now online (is it the weirdest coincidence, or should the writer of these lines get a pat on the shoulder?). Here's what Phil Castillo, the designer of the site, had to say:
There are still a few pages 'coming soon', but all should be up around May. This is still not the official site because I haven't been able to get in touch with Mr. Shore. Any contributions from others is very welcome!
Right now you can find there the Latest News, Media (contains reviews and interviews) and a Message Board (joined with the GraemeRevell.com message board). The Bio and Store are 'coming soon'.
• Rabid has just been released by Schubi, including the trailer. Thanks a lot, bro!
• Are you getting annoyed by the pop-ups? Then you should check out the Site section in the FAQ.
• Added 4 new photos of Howard Shore in Cronenberg's Regulars.
• Slightly different banner on top. I think the sub-title looks better now. Take a look at the Banners section.
• If you thought an internet petition has no effect, you should look at this IMDB news article about Paul Verhoeven's plan for a Robocop sequel. According to this article, "he has a 95 page petition collected by an internet fan site to help convince movie giant MGM to back the project". Well, I can't hope for a 95 page petition for a Naked Lunch or M. Butterfly DVD, but anything we get could help. So who wants to start those petitions? (read this thread on the message board - I think petitiononline.com could be a good place for that).
• The site HowardShore.com says it's "Coming Spring 2002". This site is designed and maintained by composer Phil Castillo, who also designed the Official Graeme Revell Site and his own official site. All are part of the Filmmusic.com family of composer websites, which also includes sites for composers Danny Elfman, Basil Poledouris, Christopher Young, Mark Shaiman, Shirley Walker and more.
The two existing sites created by Castillo are nicely designed. They contain updated news, a few sound clips from the latest albums (including reviews and interviews), an online store for the latest products and... both Castillo and Graeme Revell themselves take part in the forum, answering the visitors' questions. That's really cool.
Now you have something to wait for!
• Enhanced/edited the photos and redone the thumbs in the Cronenberg's Regulars section.
• Updated the Howard Shore info in the regular crew section.
• Check out the IMDB for a complete list of the Oscar nominees and winners, and take a look at some of the photos (or see the full photo gallery).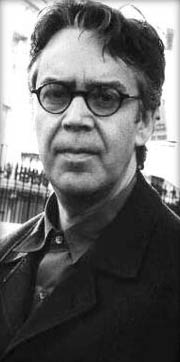 Howard Shore: Oscar Winner
Best Music, Original Score
Lord of the Rings

• 3:45 GMT update: This is the absolute BEST moment of this night. Howard Shore WON the Best Music, Original Score award for Lord of the Rings. Way to go, Howard! I love you! Hey, where's the "thank you" to Cronenberg? ;) naaa... just kidding.

• Oscar night. Will you watch it? I probably will. I'm not really sure why, I guess it's tradition. Why else would I watch it at 4am (3am if you count the red carpet arrivals)? Personally, I think the ceremony is becoming more and of a popularity contest every year. Art and talent are becoming almost insignificant, while glamour, publicity, money and satisfying the public demand are becoming the sole purpose. Of course, ignoring extraordinary talents is nothing new to the Academy: Stanley Kubrick, David Cronenberg, Tim Burton, John Hurt, Jennifer Jason Leigh, Danny Elfman, Howard Shore are just few of the names the academy has long put in its "Ignore List". You have to be in popular movie (Howard Shore first time (!) nominated - for scoring Lord of the Rings) in order to be recognized for your talent. Or as Danny Elfman puts it: "I wouldn't get an award even if they make a category for Best Danny Elfman Score". Well, we can always be consoled by the fact that these talents are found in a very good company, most of it would actually hate to be recognized by the academy (again, quoting Elfman, this time about being nominated: "My underground status is quickly disappearing" - you gotta love the man!).

Too bad we're not getting Billy Crystal as host again. He made each ceremony a real treat. Oh, well, let's look at some of the good points, shall we? (For a complete listing of the nominees, see IMDB)
Howard Shore is (finally) nominated in Best Music, Original Score for his excellent work for Lord of the Rings. And since the movie is so popular, I believe there's a very good chance to see him taking an Oscar tonight.

David Lynch is nominated in Best Director for Mulholland Dr. - his first nomination since Blue Velvet in 1987.
Sean Penn is nominated in Best Actor in a Leading Role for I am Sam. It's about time this excellent actor would get an Oscar - and people say he's got a very good chance. Of course, you won't see him sitting there, because he hates it.
Halle Berry is nominated in Best Actress in a Leading Role for Monster's Ball. I haven't seen the movie yet, but reviews say she well deserves it.
Jennifer Connelly is nominated in Best Actress in a Supporting Role for A Beautiful Mind. Again, I haven't seen the movie, but it would be nice to see her winning (I'm biased here - I love her...)
The Nolans are nominated in Best Writing for Memento.
Dennis Muren and Stan Winston are nominated (as usual) in Best Visual Effects for A.I. - what can you do? They are the best ;)
Greg Cannom is nominated in Best Makeup for A Beautiful Mind. Again - he's one of the best, but without any doubt, the one that should have really walk down with the award and is not even nominated is the Maestro and Legend, Rick Baker, for Planet of the Apes.
To end this little "article", I want to congratulate all the winners of the Razzie Award, in particular: Mariah Carey, Tom Green and Estella Warren ;)
Enjoy the show! (if you can)
When you check the site for updates, don't forget to take a look below the daily poll. Today I added a brief DK's Recommendation section. I hope you like the non-Cronenberg stuff as well (don't worry, it will stay low-key). Let me know what you think.
Added some new info to the FAQ (including an answer to some people's question: "What is a Cronenberg?").
Put up a banners "experimental" page. What do you think? (I'm still looking for a way to make it obvious it's a David Cronenberg site)
Take a look at Fox's The Fly page for some info and short clips from all Fly films (except for Curse of the Fly).
Added Leslie Carlson to the regular cast, and updated What is Cronenberg's next movie? and the Movies page.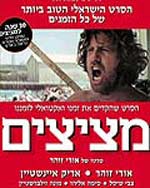 I'm really crossing the lines here (so you have full permission to skip this one), but there goes: Yesterday was the theater re-release of the cult Israeli movie Metzitzim ("Peeping Toms") (1972) in honor of it's 30th anniversary. I personally think that the shaky film-industry here harly produces good movies (and who can blame them with their almost non-existent budget?), but there are exceptions. This classic is one of the best and definitely one of the funniest. I never get tired seeing it again. So if you live in Israel (hey, there was one visitor from Israel in this site!) or can get the new DVD (eDonkey, anyone?) and want to have 90 minutes of hysterical laugh and nostalgia - this is the movie for you, with the camera work of Adam Greenberg (The Terminator 1-3, Toys) and the hilarious Uri Zohar, just before he went "a little funny in the head".
Lots of news today:
According to FutureDVDs, The Fly: Special Edition DVD is going to be released on 31/12/2003.
Blade II opens in the US today. In an old (September 2000) Spanish movie magazine, director Guillermo Del Toro said that they had written a role for David Cronenberg that "he hopes he will accept in Blade II".

So if you're going to see the movie, try to spot Dave there. Has he accepted the role?
According to miranda-richardson.com, Spider is expected to be released in mid-2002.
Since the external filming in London wrapped back in October 2001 (interiors were done later, in Toronto), it seems reasonable that the film is in post-production or even done. My guess is that the movie is ready and is just seeking distributers.
According to Hollywood Reporter, on April 5th Warner will be issuing to theaters a special director's cut of Amadeus (1984), one of my favorite movies of all times. This new cut, which is 20 minutes longer and runs exactly 3 hours, will be part of an Amadeus: Special Edition 2-disc DVD set in September, which will include audio commentary, along with a "making of" documentary that will include new interviews and footage. At about the same time there is also going to be a One Flew over the Cuckoo's Nest: Special Edition 2-disc DVD release. Wow, I can't wait. (credit also goes to The Digital Bits).
• Not much cooperation on the Chat Room issue. Please vote for it in the poll and add your comment on the board (it's perfectly okay to comment it's not a good idea, if you think so).
• Added 18 new images to the Behind the Scenes section:
• 8 misc images of Dave filming
• 7 images from The Fly (including one showing Brundle's full makeup for the deleted stage 4-b)
• 1 image from Naked Lunch
• 1 image from From the Drain
• 1 image from Stereo
• In addition, I edited and enhanced most of the pictures of Crash and Dead Ringers.
• Also re-done all the thumbs, so the page should now load twice as fast.
• Updated the cast section in Cronenberg's Regulars.
• Redesigned the navigation menu on the left. It should work a little bit better now.
• Just playing around with the design and colors. What do you think?
• Jazzcat suggested putting a chat room on the site. I don't think there are enough visitors here to make it worthwhile, but since I'd already been searching for a good Java chatter, I'll put for poll the best two I found. Chris' The Fly Film Archive already has a chat room and it lacks people too, so I thought of suggesting "merging" it with this site, although it's dedicated for The Fly discussions only. Chris set the "meeting time" there to 21:30 GMT every day, so you might want to check it out.
Test the chat Java applet by Spinchat.
Test the chat Java applet by Bravenet (on Chris' site).
• After the Swedish translation to Crash, you might have expected an Arabic translation to Naked Lunch. Well, apparently my year or two of learning Arabic in school many years ago was quite a waste, since I can't understand anything except for a word or two. Still, you might want to read my short comment on it in the FAQ section.
• I opened a thread on the board in hope to hear more opinions/suggestions for the site's name.
Added Pelle's translation to the Swedish narration over the crash test dummies video in Crash. See FAQ.
Not enough votes on the How should this site be called? poll. I can't come to a decision on this issue. Poll is still open for voting, and there's always the board.
Updated the links.
Added Chris Walas (Special Makeup, Creature Effects) and James "Smash" Isaac (Creature Effects, Visual and Special Effects Supervisor, Project Supervisor) to the Crew section. Some interesting info there.
Added some more info about Cronenberg's family to the FAQ section (Thanks Jazzcat).
David Cronenberg is 59 years old today.
Vote for the special daily poll, and don't forget to say happy birthday on the message board.

I also added a guestbook. Check it out and write down everything you think about this site :)

Thanks to Jazzcat for reminding us the special date :)

Check out the message board for some new topics.

Added a new section, Cronenberg's Regular Crew.

Updated the links and FAQ.

Redesigned the main page. Now only the current poll is shown. To see previous polls, go to the previous polls section.

The new site / site's future

As you can see, the huge, packed page has gone through some "endless renovations". I hope you like the new design.

What started as a small page with several links about a week ago, now became a small web site

I have no idea where it's going to and what the future holds for it. It may last another week, it may last a lot more - I guess it very much depends on YOUR enthusiasm and participation, and I do mean that. I'm spending the time on this because of my appreciation to this great director, and because I think you guys (and gals!) find this page/site interesting. In order to keep it interesting here and me enthusiastic about it, I hope to see some participation and feedbacks. Judging by the amount of people that came in the last several days, I can definitely say there are many more Cronenberg fans out there than you might expect. I myself was very surprised, to tell you the truth, and that's probably what made me eager to continue developing it into what you see in front of you.

So enjoy the new site, and feel free to suggest/comment/complain or anything else you might think of.

DK's Recommendation

The Man with Two Brains (1983)

If you like Steve Martin, you simply must get this classic. Hysterical comedy and Steve in top shape.
DK's rating: 7/10 | Download
---
DK's Recommendation
Bully (2001)

Important movie with a message. Based on a true story. Excellent and daring acting by the entire young cast make this movie realistic and bold.
DK's rating: 7/10 | Download