Exclusive Interview Confirmed!
Great news from Ashbrg (neural-surged): The exclusive interview with David Cronenberg has been confirmed. We will have about 15 minutes. Day and hour are still unknown, but Cronenberg arrives on Friday and leaves on Monday.

The last time Ashbrg will check the board for your questions is this Wednesday, so if you still want to ask something, hurry up.

Great work, Ashbrg!
More Naked Lunch Photos
Added 9 new photos:

• 6 more photos from the set of Naked Lunch, showing David Cronenberg himself, DP Peter Suschitzky and actors Peter Weller and Joseph Scoren.

• 3 photos taken in 1985, on David's trip to Tangier, Morocco, with producer Jeremy Thomas and writer William Burroughs.

Here too, the source of all of them is Naked making Lunch.
Sitges Film Festival
Here are the Cronenberg movies that will be shown at the Sitges Film Festival, which opens next week, on October 3rd, in Spain:

October 5, 21:30 - Videodrome
October 6, 23:00 - Camera, Spider


Here is the complete program, which was updated yesterday (PDF file in catalan language).

Ashbrg hopes to confirm the exclusive interview with Cronenberg before next week.
Spider Updates
Some Spider stuff:

• A bigger photo of Cronenberg at the 29th Telluride Film Festival has been added to the Photos Section.

• Spider won the Best Canadian Feature Film in the Toronto International Film Festival.

• Spider has been released in Portugal on September 13.

• 100 people have already voted for Spider on IMDB. More than half of them rated the movie as 10/10!.

• Read some new Spider reviews on IMDB.
Milos Forman Special Edition DVDs
Milos Forman's 2 best movies are released today in Special Edition DVDs:
Amadeus (1984)
Winner of 8 academy awards (nominated for 11) and one of my all-time favorite (a perfect 10/10), is coming out in a 2-DVD Director's Cut that contains the following:

• Additional 20 minutes
• New 2001 digital transfer from restored elements of 3-hour director's cut
• Remastered soundtrack
• Commentary by director Milos Forman and writer Peter Shaffer
• Theatrical trailer(s)
• The Making of documentary (37 min.)

Amazon offers this for $20.
One Flew over the Cuckoo's Nest (1975)
Winner of 5 academy awards (nominated for 9). Released in a 2-DVD Special Edition that contains the following:

• 8 additional scenes
• New 2001 digital transfer from restored elements
• Remastered soundtrack
• Commentary by director Milos Forman and producers Michael Douglas and Saul Zaentz
• Theatrical trailer(s)
• The Making of documentary (48 min.)

Amazon offers this for $20 too.
Ed Wood DVD
The DVD for Tim Burton's Ed Wood (1994) will finally be released in Europe (Region 2) on October 14 and will contain the following extras:

• Audio commentary from director Tim Burton
• Music video
• Making Bela featurette
• The Theremin featurette
• When Carol Met Larry featurette
• Pie Plates over Hollywood featurette
• Let's Shoot this featurette
• Original theatrical trailer

You can already pre-order the DVD here.
(Credit goes to Mika Tolvanen)
Exclusive Cronenberg Interview for The Plasma Pool?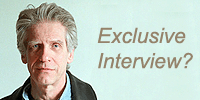 Ashbrg (neural surged) is trying to arrange for us what could be one of the most exciting events for this site - an interview with David Cronenberg himself, exclusively for The Plasma Pool! You heard it right.

Now here is the story, in short: Ashbrg lives in Spain, near Sitges, where the upcoming Sitges Film Festival will take place on 3-13 October. He's in talks with the festival's press department and is trying to get a special one-day pass as a media reporter for The Plasma Pool. The good news is that even if this interview doesn't come true, a friend of his is certain to interview Cronenberg, and Ashbrg can pass him our questions.

What do YOU need to do? Very simple: I'm starting a new thread on the board, where you can suggest your own questions to Cronenberg. You have to act fast, since there is no much time left. But, please, try to make up some original and new questions that weren't asked a million times before. You may ask anything you want, including stuff related to the Internet as a media and this site in particular. And who knows - maybe Cronenberg will find interest in this site and drop us a greeting?

A personal note to Cronenberg or any person related to him:
In case you actually get to read these lines sometime, I offer you to take a look around this site (and its past history) and judge for yourself its intentions and seriousness. I'm more than willing and excited to have this site serve as Cronenberg's "official" window for sending messages to the fans sporadically (my contact details are in the FAQ).

Let's all give Ashbrg a big thank you for all his past contributions and current efforts. I'll keep you posted on his progress.
Dark Angel and Futurama
The Indian channel Star World is starting to broadcast the Dark Angel series on 3 October. This series was produced by James Cameron and he even directed the special 90-minute finale episode of the 2nd season (which was the last).

Those of you who live in the following countries, are getting this on cables/satellite: Bangladesh, Brunei, China, Georgia, Hong Kong, India, Indonesia, Israel, Kazahstan, Korea, Macau, Malaysia, Maldives, Middle East, New Caledonia, New Zealand, Pakistan, Philippines, PNG, Singapore, Sri Lanka, Taiwan, Thailand, Vietnam.

On 10 November, Fox is starting to broadcast the 5th (and unfortunately, last) season of the excellent series Futurama.
2002 Toronto Film Festival - Last Day
The Toronto Film Festival ended yesterday. Read about it on CNN.
Naked making Lunch
I've promised and I'm keeping my word - here is the VHS rip of Naked making Lunch (1992), a 52-minutes documentary, from the BBC's South Bank Show, about the making of the movie Naked Lunch (1992).

It contains interviews with David Cronenberg, William S. Burroughs, Jeremy Thomas (producer), Barry Miles, Peter Weller, Judy Davis and more, and discusses the background of the movie, the history of Burroughs himself, the difficulties in making this movie (including the previous, unsuccessful, attempt to make it), the special effects and more.

The source for this rip is a bad VHS recording from TV with Hebrew subtitles and a small channel logo. It took me 7 times (!) to make this one right and I think the result came out rather good, considering the source and the strict restriction on the file size (it fits perfectly into one CD, with the rip of I have to make the Word be Flesh (1999)).

More info about this documentary on IMDB and of course, in this page, which you can always find in the Movies section (under Documentaries/Interviews).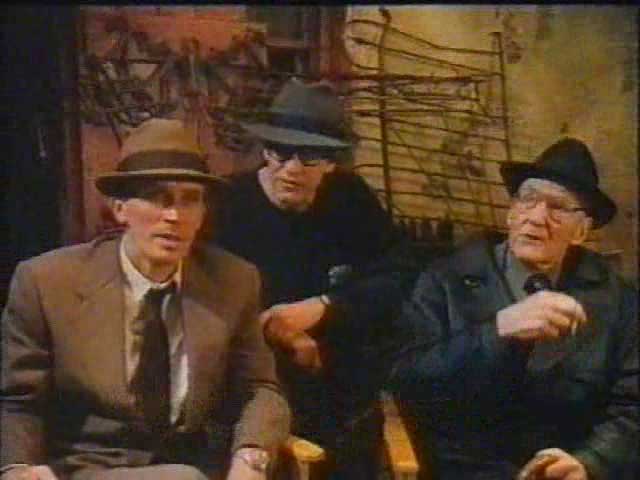 Some technical specs:

| | |
| --- | --- |
| Source: | VHS (TV Broadcast) with Hebrew subtitles |
| Video: | 640x480, 25 FPS, DivX 5.0.2, 2-Pass, 743Kbps |
| Audio: | mp3, 64Kbps CBR mono |
| Length: | 52 Min |
| Size: | 304MB |
Download it now: Naked making Lunch (1992)
That Guy...
I stumbled upon an interesting little site, called That Guy: A Salute to the Nameless Actor, which - like its name suggests - gives a little credit to some great talents that stay outside the Hollywood lights (by choice or by force).

Okay, so there are talents missing from that list, and others that appear there and are too familiar to be considered "nameless". And, hey, you can't blame the creator for putting only male actors on this list - she's a girl

Here are some of my personal "nameless" favorites on that list:
Elias Koteas, Hank Azaria, Philip Seymour Hoffman, Ted Levine, Vincent D'Onofrio.
And some other names that don't appear there:
Carol Kane, Don McKellar, Dorian Harewood, Giovanni Ribisi, Jeffrey Wright, Joan Cusack, Sean Gullette, Will Patton.
Talking of Sean Gullette (Pi, Requiem for a Dream), check out his Official Site and the Official Site of Pi. They are only two of the sites he created himself. He's also a graphics designer and a writer.
Superman 5 Info
According to Roger Friedman (Fox News), Superman 5 is going to be directed by Brett Ratner (Red Dragon) and Keanu Reeves will play Superman himself.

Sky Movies say that Ratner has asked Anthony Hopkins to play Superman's father.

(Credit goes to Coming Attractions)
2002 Toronto Film Festival - Day 9
Italian Release Date for Spider
Here are a few more release dates for Spider:

Italy - 20 November (also confirmed by Paola).
Philippines - 18 September
UK - 3 January 2003 (probably postponed from the original date of 1 November 2002)

For a complete list of the unknown dates, see the FAQ.
2002 Toronto Film Festival - Day 8
2002 Toronto Film Festival - Day 7
This is the time to credit WireImage for all their wonderful photos.
2002 Venice Film Festival (29 August - 8 September 2002)
Photos from last week's 2002 Venice Film Festival:
US Release Date for Spider Postponed
According to Coming Soon, the US (NY, LA) release date for Spider has been postponed from 25 December 2002 to 28 February 2003.

Meanwhile, to make it a bit easier (or harder?) for you, here are some more photos from the trailer, all from Rotten Tomatoes (click to enlarge):
More from Yesterday's Spider Press Conference
Added bigger photos from the Spider press conference yesterday.
Go to the Spider section and click them to see in full size.

Also, see this interesting Spider press conference page on the festival's official site.
More Photos from yesterday
Spider Portraits
Misc
The Plasma Pool Celebrates

The Plasma Pool is half-a-year old! That's right, 6 months have past since this site has begun its way. Who could have believed that it would made it up till now? And with this continued interest of you, guys and gals.

I'd like to thank all the good people who encourage me and make me want to continue operating this site, especially to those of you who take active role here, through participation (polls, board, chat) and contribution. And a special thanks to my best mate, Schubi

What better way could you ask for, to celebrate this occasion, than having the premiere of Cronenberg's Spider at the Toronto International Film Festival? Is this a coincidence or what?
6 months in 7 clicks: March, April, May, June, July, August, September
2002 Toronto Film Festival - Day 6
Spider Press Conference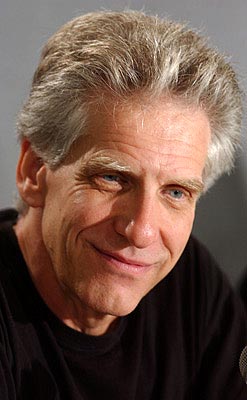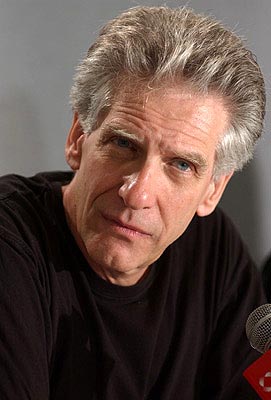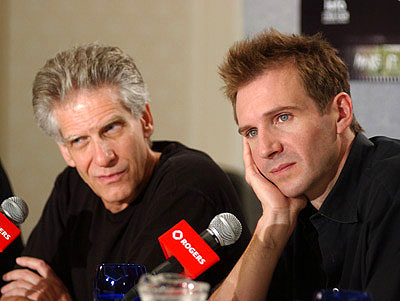 Spider Premiere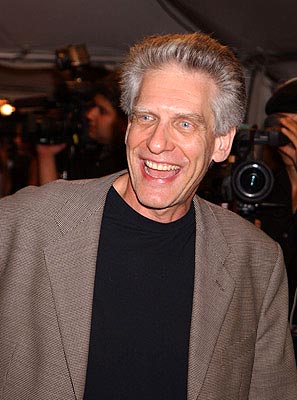 Alliance Atlantis Party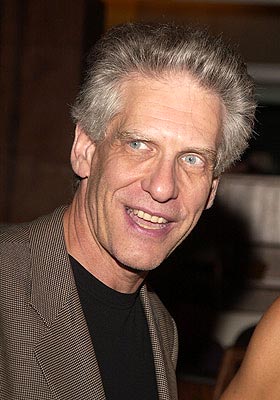 Misc
Remake for Scanners
From Hollywood.com:

Artisan Pictures will be remaking the David Cronenberg cult horror favorite Scanners. The original film was about a group of people, or "scanners," who take over the world using their telepathic abilities. The remake will concentrate on modern-day paranoia and terrorism, as well as give the mind-bending finale a more updated look.
More Photos from yesterday
2002 Toronto Film Festival - Day 5
Spider News
Lots of Spider news today, all from the great ashbrg (neural-surged) - our honorary field reporter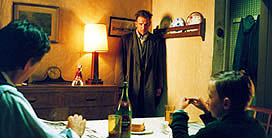 • Added the image that you see on the right.
• Spider has been sold to the following countries:

| | | | |
| --- | --- | --- | --- |
| | - Hollywood Classics | | - Central Partnership |
| | - Metropolitan Filmexport | | - Manga Films |
| | - Odeon | | - Digital Rights Pictures |
| | - Myndform | | - Helkon SK |
| | - Noah Communications | | - Sony |
| | - Media Suits | | Benelux - Les Films D'Elysee |
| | - Monolith | | Scandinavia - Scanbox |
| | - Lusomundo | | former Yugoslavia - Discovery |
• Howard Shore's soundtrack to Spider will be released by Milan Records by the end of this year.
• According to Capitol Films, Spider and Gosford Park received nominations for the 2002 People's Choice Awards/European Film Awards which will air on December 7th:
Ralph Fiennes received a Best Actor nomination for Spider and Maggie Smith, Helen Mirren and Emily Watson each received Best Actress nominations for Gosford Park.
• 4 addresses of Spider Productions/Films and distributers have been added to the FAQ.
Thanks, ashbrg, you're the best reporter!
Cronenberg at the Opening Night of Toronto Festival
Jazzcat has sent us these 2 photos of David Cronenberg and his wife, Carolyn in the opening night of the Toronto festival.
2002 Toronto Film Festival - Day 4
More photos from Toronto Film Festival
Click to enlarge:

2002 Toronto Film Festival - Day 3
Robert Zemeckis Added
Added Robert Zemeckis to the list of my favorite directors in the Others section.

In addition, 5 of the others have been updated and they now contain trailers to most of the movies. Most of the trailers are in streaming Media Player ASF format. Each of them is presented in 4 different speeds to best suit your bandwidth: 28k, 56k, 100k and 300k.

If you have a problem playing the trailers (error or an "Incorrect version" message), then you should update your Microsoft MPEG-4 Codec.
2002 Toronto Film Festival - Day 2
2002 Toronto Film Festival Opens
Yesterday was the opening night of the 2002 Toronto Film Festival. Here are some photos from the premiere of Ararat:
Red Dragon
Red Dragon, the prequel to The Silence of the Lambs, premieres in the US on October 4. With such an impressive cast, let's hope it won't be as bad as Hannibal.

The excellent Danny Elfman is doing the score, so there's also a lot to look forward to, although according to a test-screener review last month, it's identical to Howard Shore's original score. You'll be able to judge yourself when the soundtrack comes out on Septmber 24. Interesting (?) trivia to notice: Shore "replaced" Elfman on Ed Wood; Now Elfman "replaces" Shore.

Meanwhile, here's the trailer: 28k / 56k / 100k / 300k (or go here if you can't play it)
Site Statistics
Some statistics about the site and its visitors:

• The site contains 787 files, weighing 11.8MB.
• It had 91 polls so far.
• It had visitors from at least 40 countries.
• It currently has about 26 unique visitors daily.
• Most of the known (that also means excluding US) visitors are from (in order, from left to right):
















As always, you can take a look at the News Archive (link is at the bottom of this page) to see the site's history.
DK's Recommendation
L.A. Story (1991)

DK's rating: 8.5/10
Trailer: 300k / 100k / 56k / 28k
DVD | Download
---
DK's Recommendation
Straw Dogs (1971)