Cronenberg Fan Site
Check out Trust in Depth, a fan site with some
interesting Cronenberg stuff. Since it's all in Japanese, you'll probably want to see the English translation.
New Photos
Added 9 new photos:

1 photo from eXistenZ
1 photo from Crash
3 photos from Dead Ringers (including the deleted scene of the first nightmare!)
3 photos from The Fly
1 photo from Scanners

The fantastic photos from Dead Ringers and The Fly were found on Cronendrome.

Lots of high-resolution Spider photos coming soon...
DK's Review: Red Dragon (2002)
Red Dragon (2002) is the prequel to The Silence of the Lambs (1991) and a remake of Manhunter (1986), based on the novel Red Dragon (1981) by Thomas Harris.

Actually, the movie is not as bad as I have expected. It's definitely better than the silly
money-maker called Hannibal (2001), but let's face it, producer Dino De Laurentiis didn't just re-bought the rights for the sake of art.
The movie (which premieres here this weekend, btw) sticks, more or less, to the book and the plot is very similar to that of Manhunter - so if you saw the latter, don't expect many surprises. Without giving away anything of the plot, I have to say that while watching the movie I got the feeling of "man, the screenwriter must have seen Psycho too many times".
All in all, I'd say it's an average movie and ok for passing 2 hours. But since I didn't find Manhunter anything exceptional either, you might think otherwise. Impressive cast, that does an average acting under a (less than) average direction. Ralph Fiennes is good in his role, and something tells me that we're gonna have quite a few flashbacks when seeing Spider (2002) (broken mirror, etc.). Hmm, I just hope we won't see as much of his butt as we see in this movie

Cast includes Anthony Hopkins, Edward Norton, Ralph Fiennes, Harvey Keitel, Emily Watson, Mary-Louise Parker, the wonderful Philip Seymour Hoffman as the reporter and Anthony Heald reprising his role as Dr. Frederick Chilton.
As usual, good score by the excellent Danny Elfman which, by the way, does not repeat any of the themes by Howard Shore (the reviewer from the test-screening, who reported otherwise, must have been drunk). Notice legendary composer Lalo Schifrin as the Conductor, right in the beginning of the movie.
Don't get too many expectations, and you'll have an okay time.
DK's rating: 6/10
Actor Richard Harris dead at 72
Very sad news. Irish actor Richard Harris has died yesterday, at the age of 72. Harris had been receiving treatment for Hodgkin's disease at a London hospital.

He played a rugby player in This Sporting Life (1963) (his first nomination for an Oscar), Cain in The Bible (1966), King Arthur in Camelot (1967), the title role in A Man Called Horse (1970), 'Bull' McCabe in The Field (1990) (his second and last nomination for an Oscar) alongside John Hurt, English Bob in Clint Eastwood's Unforgiven (1992), Wrestling Ernest Hemingway (1993) alongside Robert Duvall, Marcus Aurelius in Gladiator (2000), just to name a few.

Most recently he played Albus Dumbledore, the head of Hogwarts School in Harry Potter and the Sorcerer's Stone
(2001) and Harry Potter and the Chamber of Secrets (2002) which is due out November 15.
More info on CNN.
IMDB is conducting a tribute poll, for Harris' best performance. vote and see the results.
Watch Harris in the trailer to The Field (1990), in one of his best performances:
300k / 100k / 56k / 28k
A little trivia:

• Born October 1, 1930, in Limerick, Ireland; One of 9 children of farmer Ivan Harris and his wife, Mildred.
• Richard has started his movie career in 1959, at the age of 29.
• Peter O'Toole and Richard Burton were Richard's two "drinking" buddies. When Burton died Peter and Richard quit drinking.
• He was known for his wild reputation in 70's. He almost overdosed on cocaine in 1978 and decided to kick his bad habits.
• In 1982, his good friend Richard Burton asked him to take over the last eight weeks of a Camelot stage revival, because he was ill and couldn't. Harris ended up with the production for five more years then bought out the producers.
BabelFish
Added BabelFish translation. You can now click a flag, on the top-right corner of the screen, in order to translate this site into one of the following languages: Chinese, German, Japanese, Korean, French, Italian, Portuguese, Spanish.
Personally, I prefer seeing a site in it's original language, but I know some people would find it useful.
If you translate, the menu (links) on the left would work only when you click the text.
P.S.: Please avoid deep-linking. Always go through the main URL.
Belgium Release Date
Spider will be released in Belgium on 6 November.

See the FAQ for a complete list of known dates.
DVD Release for State of Grace
The excellent and underrated State of Grace (1990) is finally going to have a DVD release, on 3 December.

You can pre-order it now on Amazon.
Richard Harris Fights Cancer
According to IMDB, actor Richard Harris has confirmed the reports that he is suffering from cancer, but is determined to beat it before returning to the Harry Potter film set next year (after March).

Harris has been undergoing chemotherapy in London since August, after being diagnosed with Hodgkin's Disease. His agent says that he has responded very well to the treatment and should be out of hospital soon.
VHS Rip: The American Nightmare (2000)
Here is the David Cronenberg segment (9 min) in The American Nightmare (2000), a documentary about the history of horror movies, containing interviews with John Carpenter, Wes Craven, Tobe Hooper, John Landis, Tom Savini and more.

As a whole, the documentary is okay, but I didn't find it exceptionally good. Cronenberg himself appears 3 times in it: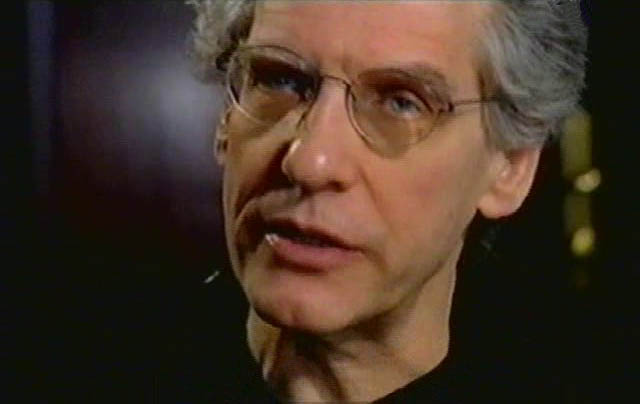 Twice in the beginning and towards the end of the documentary, but not for more than a few seconds, and once in a relatively long, contiguous segment, which is the interesting part that we're talking about.
The main focus is on sex, the politics of sex and how these concepts reflect in Shivers (1975). Thus the clip contains major spoilers for this movie - so be warned if you haven't seen it already. It also contains tiny bits from Rabid (1977), The Brood (1979) and Videodrome (1983). The person analyzing the final scene in Shiver is Adam Lowenstein, an assistant professor of English and film studies in the university of Pittsburgh.
I had to re-record the audio and run it through noise-reduction, and the result is a very clear sound. Video quality is excellent. Originally, the segment contained several TV-news history clips that I found distracting, so I edited them out - about 40 seconds in total. You have to pay good attention to notice them: One is at 0:41 (the "heavy snow" is in the original movie) and the other one is at 3:14 (right in the middle of Cronenberg's sentence about biology).
More info about this documentary on IMDB and of course, in this page, which you can always find in the Movies section (under Documentaries/Interviews).
You can also watch a streaming clip (20 sec) on IFCTV.com.
Some technical specs:

| | |
| --- | --- |
| Source: | VHS (TV broadcast) with Hebrew and Russian subtitles |
| Video: | 640x416, 25 FPS, DivX 5.0.2, 2-Pass, 1200Kbps |
| Audio: | mp3, 64Kbps CBR mono |
| Length: | 9 Min |
| Size: | 84MB |
Download it now: The American Nightmare (2000)
DK's Recommendation: Ordinary People (1980)
Ordinary People (1980), Robert Redford's directorial debut, proves that Redford is not only a good actor, but also an excellent director.

The movie is a very powerful and depressing drama, based on the novel by Judith Guest. It deals with death, suicide, adolescence and the delicate relationships inside the family structure.
It won 4 academy awards: Best picture, best director (Redford), best supporting actor (Timothy Hutton, in his first feature film, at the early age of 20) and best writing. It was also nominated for best leading actress (Mary Tyler Moore) and best supporting actor (Judd Hirsch).
Two sad and ironic incidents that happened prior to the filming may be counted for the superb acting: The tragic death of Mary Tyler Moore's only child, Ritchie (an accident caused by a defective gun) and the passing away of Timothy Hutton's father, actor Jim Hutton.
Also appearing: Elizabeth McGovern, M. Emmet Walsh, Adam Baldwin and of course, Donald Sutherland in one of his best performances (which definitely deserved an Oscar too).
You'll probably recognize the famous (and non-original) theme, composed by Johann Pachelbel.
DK's rating: 9/10
Ordinary People (1980)
Ashbrg is Back
Ashbrg (neural-surged) is back from the Sitges Film Festival, and this is what he has to say:
hello there, i'm back from sitges.

the interview was short, but great! (15 minutes aprox) Cronenberg is a very nice person -i was really 'neural-surged' when i met him :)-, Spider is a GREAT movie.

we also recorded other Sitges events in which David Cronenberg was involved (post-screening Stereo+Crimes of the Future, presentation of the book about the new flesh concept and receiving the time machine honorifical award).

Be patient, now we'll transcript (to have a text version) and edit (the final format will be a div-x .avi) the whole thing.


Camera was incredible seen in a big screen; Stereo and Crimes of the Future are very interesting but really experimental. Cronenberg joked with the audience when he arrived after the screening of the two films (he said that he couldn't believe that we were still there after seeing those slow and weird movies): "this is pure fanaticism" he said.

see you soon and thanks for your questions.
Red Dragon Premieres Photos
Here are some photos from Red Dragon recent premieres (thanks to kat for the nice photo of Danny Elfman with Bridget Fonda).



After After-Party at the Hudson Hotel (Sep. 30)



London Premiere (Oct. 7)
More Spider Release Dates
Here are some new/updated release dates for Spider:

Switzerland - 19 September (German speaking region)
Spain - 25 October
France - 6 or 13 November
USA - 28 February (limited release)

See the FAQ for a complete list of known dates.
DK's Recommendation: Contact (1997)
Contact (1997), directed by Robert Zemeckis may be a Sci-Fi movie, but for me it's first of all a philosophical one. If you expect an action movie with UFO's, such as Independence Day (1996), then you picked the wrong movie.

The movie's main theme is science vs. faith, and its moral is that there are things in life that one must accept without a proof. It raises questions like the existence of god, the existence of intelligent life somewhere in the universe, where we came from and what we're doing on earth (as a good example for taking some of these elements and ruining them, see K-PAX (2001)).
Technical aspect is top-notch: Excellent direction (Robert Zemeckis), cinematography (Don Burgess), music (Alan Silvestri, Zemeckis' regular), script (based on the novel by late astronomer Carl Sagan), sound, editing and breath-taking special effects - while a great portion of them is "natural" and hard to notice.
The impressive cast includes Jodie Foster (in an Oscar-worthy performance), Tom Skerritt, David Morse, James Woods, Angela Bassett, Jake Busey, the fabulous John Hurt, the always-annoying Matthew McConaughey, and many other guests.
DK's rating: 8.5/10
Trailer: 300k / 100k / 56k / 28k
Contact (1997)
Site Statistics
Some statistics about the site and its visitors:

• The site contains 893 files, weighing 13.2MB.
• It had 99 polls so far.
• It currently has about 32 unique visitors daily.
• It had visitors from at least 43 countries.
• Most of the known (that also means excluding US) visitors are from (in order, from left to right):

















As always, you can take a look at the News Archive (link is at the bottom of this page) to see the site's history.
The New Flesh Discussion at Sitges
Ashbrg (neural-surged) brings the following news about the Sitges Film Festival:

David Cronenberg himself will present Spider at the festival and will take part in a discussion about the concept of The New Flesh.

It will be followed by a screening of these films:
• Crimes of the Future (David Cronenberg, 1969)
• Stereo (David Cronenberg, 1970)
• Videodrome (David Cronenberg, 1982)
• Cyberman (Peter Lynch, 2001)
• Orlan, Carnal Art (Stephan Oriach, 2001)

Here is the full story:
The concept of New Flesh was baptized as such by David Cronenberg in his movie Videodrome, in 1982, and is present in the rest of his films. The idea is also found in works by other creators like Clive Barker, H. R. Giger, Orlan, Andres Serrano, Charles Burns or Joel Peter-Witkin.

New Flesh is, in principle, any symbiosis, practice or aesthetics between the human body and another non-organic element. The New Flesh contains an innate component that makes it futuristic. Actually, the concept is born from science fiction with ideas like the cyborg, diligently made real today: considered as extensions of our senses, a car, a cell phone or any kind or radio could be appraised as New Flesh.

The New Flesh is a philosophic-pop concept specially loved by fantasy genre fans. That is why the Sitges International Film Festival of Catalonia announces its dissemination with a cycle of illustrative and revealing movies, co-publishing a collective book with Valdemar that analyzes the subject in all its interpretations, and programming, at the festival, diverse acts including talks and debates with specialist and protagonists.
Other interesting films that will be shown at the Sitges Film Festival:
• Spirited Away (Hayao Miyazaki's animation film that won at Berlin)
• Human Nature (first feature film by amazing video-clip director Michel Gondry)
• Hollywood Ending (Woody Allen)
• Dolls (Takeshi Kitano)
• Russian Ark (Alexander Sokourov)
• Cypher (Vincenzo Natali, director of Cube)
• Dead or Alive: Final (Takashi Miike, who has directed 6-9 movies per year)
• Red Dragon

DK's Recommendation
Ordinary People (1980)

See more details on October 11.
DK's rating: 9/10
DVD | Download
---
DK's Recommendation
Gods and Monsters (1998)

DK's rating: 8/10
Trailer: 300k / 100k / 56k / 28k
DVD | OST | Download
---
DK's Recommendation
Contact (1997)

See more details on October 6.
DK's rating: 8.5/10
Trailer: 300k / 100k / 56k / 28k
DVD | OST | Download