Spider Soundtrack Released
Ashbrg (neural-surged) draws our attention to Amazon France, where Howard Shore's soundtrack for Spider has already been released last week, on November 12.


You can buy it there for 4.88 Euro and hear 30-second samples for all 12 tracks.

Here are the direct links to the RealAudio samples, which you can also download:

First impression: The soundtrack is very quiet and low key. Shore mostly uses a piano, an oboe (clarinet?) and the instruments by The Kronos Quartet: Cello, Violin and Viola. This might be Shore's quietest score ever. Recall what he had to say about the music in the movie: "It will be interesting to see how you react to the music, because it is used in a very specific way".
Gangs of New York Soundtrack
And while we're on the soundtracks subject, Elmer Bernstein's score to Martin Scorsese's Gangs of New York will be released on December 17.

Amazon is already pre-selling it, for $13.5

You might recall that Howard Shore contributed to the score a part of a concert piece called Brooklyn Heights that he has been working on and that has never been premiered. He has licensed this piece for use in the film.

Yes... lots of Shore's material is being released now.
Howard Shore's The Two Towers
Howard Shore's score to The Lord of the Rings: The Two Towers is coming out on December 10, and already started to spread on the net. The CD contains 19 tracks, including 5 songs.

The movie itself is coming out a week later.
Live Chat with Director John Badham
The Home Theater Forum is conducting a 1-hour live chat with director John Badham (WarGames (1983), Short Circuit (1986), Stakeout (1987), Bird on a Wire (1990), etc.) on Monday, November 25th, at 7pm MST (for Europe, that's 2am GMT on November 26th).

More details and rules for the chat are here.

Also, you can read transcripts of previous live chats, such as the one with John Landis.
Actor James Coburn dies at 74
From CNN:

Actor James Coburn, who took on the role of the tough guy in such films as Our Man Flint (1966) and The Magnificent Seven (1960) but whose anguished portrayal of an abusive father in Affliction (1997) finally earned him an Oscar, died Monday. He was 74.


Lando's Stinking Hole - Latest South Park and Futurama Episodes
Lando's Stinking Hole brings you the latest Futurama and
South Park episodes on a weekly basis. Both series have just started their new seasons (for Futurama it's also the last one, unfortunately) and the episodes are brought a day or two after being broadcast in the US.


Go on and leech - the server, with a traffic of 40GB-100GB a day, is extremely fast. You might also want to show your gratitude by clicking on the donate button on the top-left corner of his site.

You can also get the latest South Park episodes at Mr. Twig.
Big Fish Cast
According to The Hollywood Reporter, Danny DeVito, Helena Bonham Carter, Steve Buscemi and Alison Lohman will join Ewan McGregor, Albert Finney, Billy Crudup and Jessica Lange on Tim Burton's next flick, Big Fish.

(Thanks to Mika)
Jeffrey Jones and Paul Reubens Charged
According to a statement from the district attorney's office, the charges against Jeffrey Jones do not involve any sex act being performed or any video or film being taken. He stands accused of hiring a 14-year-old boy to pose for photographs, the statement said. His arraignment was scheduled for November 21.

More info on CNN.


In another case, actor Paul Reubens, best known for his character Pee Wee Herman was charged Friday with one misdemeanor count of possessing material depicting children engaged in sexual conduct. Reubens' attorney says it's simply untrue: "Mr. Reubens has never at any time knowingly possessed any artwork from his extensive vintage and antique art collection even remotely related to anything improper. When all the facts come out, it will be clear he did not commit any crime".

More info on CNN.

Hmm, Jeffrey Jones, Paul Reubens, Winona Ryder... what's going on with all the Tim Burton actors lately?
Spider Competition
Helkon-sk are conducting a Spider competition on the official site. Signed screenplays, posters and books will be given on 3 January (2003... don't believe the 2002 written there ).
Actor Jeffrey Jones Arrested on Child Sex Charges
From IMDB:

The Associated Press has reported that actor Jeffrey Jones (Ferris Bueller's Day off,
Beetlejuice, Ed Wood, Sleepy Hollow, Amadeus) was arrested Thursday in Los Angeles on charges of using a minor for sex acts and possession of child pornography.

Jones, 56, surrendered himself to Los Angeles police and was freed on $20000 bail, according to police authorities, with an arraignment scheduled for November 21.

L.A. authorities had begun investigating Jones last November after a minor came forward and "alleged criminal acts of a sexual nature," with a subsequent search of Jones's home revealing "numerous items of evidence."

Both the L.A. Police and District Attorney's office refused to comment further, other than saying the alleged victim was a 17-year-old boy. Jones has been unavailable for comment.
Painkillers, Red Cars, Scanners Remake
For those of you who haven't downloaded the Cronenberg interview yet, here are some bits concerning the still-unmade movies:


• Painkillers is an original script that Cronenberg wrote some years ago. He's now rewriting it and hopes to make it in the next year or so. It's about performance artists in the future, and Cronenberg takes inspiration from various real performance artists. Orlan is only used as a model for one of the characters and has no other involvement in it. In other words, the previous report (by Orlan herself) about her participation in the movie is false.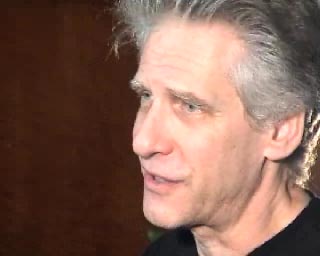 More info about Painkillers in the FAQ.

• Red Cars is a story about Formula 1 motor car racing in 1961. It's an original script that Cronenberg wrote many years ago. He likes it very much and has great affection for it. It's a "very difficult film to get made", in his words, and at the moment it's not ready to go. Cronenberg jokes, saying he hopes to live long enough to make it.

• He finds the Scanners remake a little strange, but not so unusual.
Ashbrg's Interview with David Cronenberg
After a long wait, it finally arrived - Ashbrg's interview with David Cronenberg. The interview took place in Spain, at the Sitges Film Festival, on October 2002 and consisted of questions that you guys suggested.

Ashbrg is working on a DivX version of the interview, but you can already download it in QuickTime format:


• Cronenberg Interview (10 Min, 56MB): (hey, two cameras?! nice!)
Painkillers & the New Flesh concept (1:04)
Technology & new art forms (3:20)
Red Cars (0:37)
Scanners remake & thoughts on remaking (1:09)
Stephan Dupuis (1:21)
Working with Peter Suschitzky (0:59)
Shooting (0:32)
Coverage (1:22)

• Report (16 Min, 88MB):
Stereo & Crimes of the Future (5:40)
A world without women (2:30)
Understanding the movies & hollywood (2:40)
The new flesh forum (2:04)
The time machine award (3:06)

The files will remain on the server for a limited amount of time, so hurry up.

Thanks, Ashbrg, from all of us! (visit Ashbrg's Hamsterloco)










The following questions were answered:


Bev Mantle: What can you tell us about Painkillers? What relation has Orlan with the project?

Bev Mantle: There's some rumours about a Scanners' remake. What is your implication with that and what do you think about your work being remade?

Bill: According to The Plasma Pool News archive, Artisan Pictures will remake Scanners "concentrating on modern-day paranoia and terrorism". What are your thoughts on remaking, including changes, of your older material?

DonkeyKong: Have you thought of producing short film(s) to be distributed directly through the Internet?

Cronendrome - UK: Your proposed project Painkillers seems a further exploration of The New Flesh. What particularly drew you to the world of extreme body art (Orlan and dare I say Michael Jackson!)? How do you see this project as further developing your ideas about the relationship of the body to technology?

Cronendrome - UK: Is there any chance Red Cars might be made?

Sergi_Sergi: as a student of cinematography I'd like to know how do you work with Peter Suchitzscky. Do you give him total freedom to decide the camera's ubication and focal lenghts? Do you planify anything before shooting? How much do you "cover" in shooting? What does Peter do during pre-production?

Cronenberg Exhibition
Ashbrg (neural-surged) brings us 8 new photos from past Cronenberg-related exhibitions, featuring props from his movies.
BabelFish Moved
Although the results of the BabelFish poll weren't decisive, I decided to move it so the top of the screen wouldn't look too "crowded". Instead of removing it completely, it moved to the bottom of this page, so you can still use it.
Howard Shore News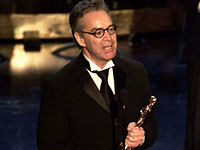 Ashbrg (neural-surged) draws our attention to some interesting Howard Shore news on the Music from the Movies site:

• Howard Shore's office confirms that Virgin France will release the Spider soundtrack around November 12th.

• Shore won 3 awards in The Flanders International Film Festival, on 19 October:
Best Score for Spider
Best Original Soundtrack of the Year for Lord of the Rings
Public Choice Award for Lord of the Rings

• This is what Shore has to say about the misleading story circulating that he had replaced Elmer Bernstein's score on the epic new movie Gangs of New York: "I did not score this film but contributed a part of a concert piece called Brooklyn Heights that I have been working on that has never been premiered. I have licensed this piece for use in the film. I did not record it as my involvement in composing, orchestrating and conducting The Two Towers has had me completely absorbed for the last 9 months."
New Spider Photos
Added 12 new high-resolution Spider photos:

1 photo to Behind the Scenes
7 photos to Imagse from the Movie
4 photos to Desktop - these are giant-size (2000x1300) photos, from the Sitges site.

Even more Spider photos coming soon...
Site Statistics
Some statistics about the site and its visitors:

• The site contains 921 files, weighing 13.7MB.
• It had 106 polls so far.
• It currently has about 44 unique visitors daily.
• It had visitors from at least 43 countries.
• Most of the known (that also means excluding US) visitors are from (in order, from left to right):

















As always, you can take a look at the News Archive (link is at the bottom of this page) to see the site's history.
DK's Recommendation
Office Space (1999)

DK's rating: 7/10
DVD | OST | Download
---
DK's Recommendation
Animal Farm (1954)

DK's rating: 5/10
Download
---
DK's Recommendation
The Nightmare Before
Christmas (1993)

Trailer1: High
Trailer2: 100k / 56k
DK's rating: 9/10
DVD | OST | Download
---
DK's Recommendation
Night on Earth (1991)

DK's rating: 7.5/10
OST | Download
---
DK's Recommendation
Citizen Kane (1941)

---
DK's Recommendation
The Wall (1982)

DK's rating: 8.5/10
DVD | OST | Download
---
DK's Recommendation
Take the Money and Run (1969)

Clip: 300k / 100k / 56k / 28k
DVD | Download
---
DK's Recommendation
Ed Wood (1994)

DK's rating: 9/10
Trailer: 300k / 100k / 56k / 28k
DVD | OST | Download
---
DK's Recommendation
Radio Days (1987)

DK's rating: 8/10
Trailer: 300k / 100k / 56k / 28k
DVD | OST | Download
---
DK's Recommendation
Deconstructing Harry (1997)

DK's rating: 8/10
Trailer: 300k / 100k / 56k / 28k
DVD | Download
---
DK's Recommendation
Deliverance (1972)