Ghosts of the Abyss
James Cameron's new 3D IMAX documentary (shot in 70mm), Ghosts of the Abyss is coming out on April 11 exclusively to 3D theaters in the US and the UK.

Visit the Official Site and watch the trailer on the Official Site or on Apple Site.
iSONEWS Domain Busted
The US Department of Justice has taken over the popular iSONEWS domain. More info on the site and on The Register.


Strangely enough, the site still operates here.
Howard Shore Wins a Grammy

Hedwig refers us to the 45th Grammy Awards that was conducted on Sunday. Howard Shore won the award for Best Score Soundtrack Album for a Motion Picture, Television or Other Visual Media for The Lord of the Rings: The Fellowship of the Ring.
DK's Best Achievements in Cinema for 2002
Bear in mind that the following are my own opinions.



It's not the first year that the biggest awards competitions (namely, the Golden Globes and the Oscars) are declining. With every passing year they're becoming more like the other awards conducting throughout the year and have now reached a definite "Popularity contest"/"Blockbuster award" level. Artistic values are almost non-existent.

Most of this year's nominees were/are major disappointments to me. Movies that aren't necessarily bad (some are!) - they're simply not good enough to be considered for a "respectable" honor such as the Oscar.

Because almost all of this year's nominees are high-budget movies; because the decision-makers have decided to totally disregard independent/non-mainstream/low-budget movies; because some of the best movies of 2002 weren't even mentioned. Because all of these reasons - I've decided to put a list of my favorite achievements in cinema for 2002.

Consider it as recommendations or simply as my small piece of honor for movies that haven't received their proper respect and recognition by the major public. All the movies mentioned are "nominees" and at this point I'm not planning on announcing any "winners" (not a smart idea anyway, when it comes to artistic values).

I know some of you won't agree, I know some would be angry I haven't mentioned their favorite movies. Feel free to express your opinion - either pro or con - on the board.



DK's Best Achievements in Cinema for 2002


DK's Best Achievements in Cinema for 2002 is now in the Awards section.
DK's Review: Spider (2002)
A year of anticipation for a movie by one of your favorite directors raises your expectations to a degree that is a recipe for a certain disappointment. I wasn't disappointed.


Before watching Spider (2002) by David Cronenberg I read few reviews as possible, trying to avoid the usual spoilers. Some of the reviews described the movie as slow-paced and empty. One of them even "warned" that it's "a movie from the same director who made Crash" - it's always amusing to see the reaction of a person who watches a Cronenberg movie without having a clue what he's in for.

Having read that and pre-listening to the short clips from Howard Shore's soundtrack, I "prepared" myself for a movie that is similar to Crash in the sense that after watching the latter for the first time, I asked myself "is it over already? but nothing has happened...", and since then it has raised to get my vote of 9/10.

Spider is indeed Cronenberg's most restrained movie to date. It's very low-key and slow-paced, and there are no special-effects at all. Instead of dialog Cronenberg presents us "mood",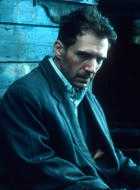 achieved by the rainy and claustrophobic environment, Peter Suschitzky's dark and still photography, Howard Shore's minimalist and quiet piano music and songs, and the lead actors.

Ralph Fiennes is great as the mentally-ill Spider. During most of the movie he mumbles to himself, and the amount of lines in his spoken dialog is in good competition with that of Arnie in the first Terminator or Holly Hunter in The Piano ;)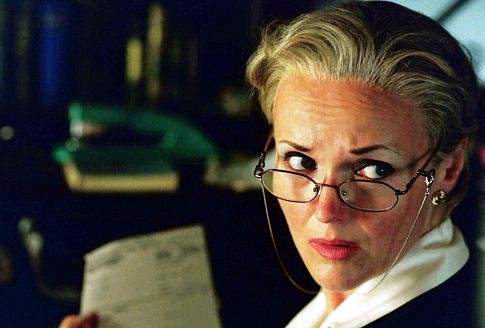 I was even more impressed by Miranda Richardson, who has the toughest role(s) and plays them in a very believable way, that could have easily gone comic by another actress.

Spider's flashbacks reminded me of Woody Allen's technique, best used in Crimes and Misdemeanors (1989), in which the lead actor "relives" his memories and confronts the characters in them.

Other movies that popped into my mind were Cronenberg's second short, From the Drain (1967) - mainly for its minimalism and restraint, I had a cozy feeling that Cronenberg is going "back to the roots" with this one; Dead Ringers (1988) for its quietness and claustrophobic environment; Crash (1996), which was mentioned above; David Lynch's Eraserhead (1977), which shares a lot of similarity: minimal dialog, darkness, illness and surrealism; Atom Egoyan's Exotica (1994), mainly for the similar flashback field scenes, which are the only "bright outdoors" in both movies.

The weakest point for me was the predictable plot. After the first viewing, I'm still not sure whether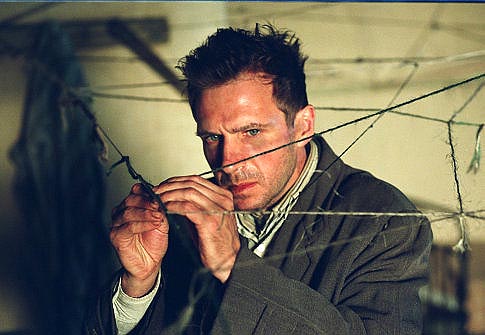 Cronenebrg did it on purpose or not. In M. Butterfly (1993) he played with the audience: Bearing in mind that they'll come to the movie already knowing its big "secret" - therefore feeling superior to the lead character - Cronenebrg used this "against them" to enhance the sympathy to the character, who feels superior to his loved one. Has Cronenberg tried to act in a similar way with Spider? Maybe a second viewing would tell.

Talking of audience, I was surprised to see a relatively great amount of viewers. A lot more than I'd expected to come. Cronenberg's movies are always released to cinemas here in an extremely limited manner (which is a shame, of course). That was the case with Crash and eXistenZ.
Spider was released in 3 theaters only. That suggests that the publishers don't have high expectations in the box-office from Cronenberg movies, and who can blame them? Art movies aren't blockbusters. I appreciate the fact that they took the risk instead of just skipping the release altogether.

In a period (and more specifically - a year) that gives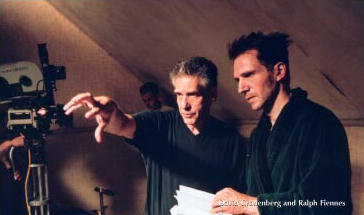 the public some of Hollywood's most boring and cliched movies (and nominates them for the biggest awards, totally disregarding any non-blockbuster), it's so encouraging to see that there are still artists you can depend on; who aren't afraid to take risks and make artistic low-budget non-mainstream movies. People like David Cronenberg, one of the best directors living today, who you can rely on year after year.

Rating: 8/10 (for the first viewing; Could easily go higher with further views)
Spider DVD-Screener
A DVD-Screener for Spider is spreading on the net. I believe that anyone who wants can find it, so there's no point in "hiding" it. But if you're a Cronenberg fan, please support his art and show your interest in his work by going to the cinema and paying for a ticket. After all, it looks better on the big screen - and personally, I didn't want to miss the experience of watching a new Cronenberg movie in cinema. For me, the 1-year of waiting was worth it.

The screener has a bad aspect-ratio: 640x272 (2.35:1) instead of 640x346 (1.85:1) - as you know, Cronenberg likes to shoot in 1.33:1 and mask it into 1.85:1 in cinema.

Spider DVD-Screener
DK's Recommendation: Singles (1992)
Singles (1992) is the first Cameron Crowe movie I saw and it's still my favorite one.

Great cast (Campbell Scott, Kyra Sedgwick, Bridget Fonda, Matt Dillon and many more), script, direction, photography/editing and excellent soundtrack (Smashing Pumpkins, Alice in Chains, Pearl Jam, Chris Cornell and more).

Hilarious guest/cameo appearances by Eric Stoltz (Crowe's regular), Bill Pullman, Paul Giamatti, director Tim Burton, singer Chris Cornell, and Crowe himself.

DK's rating: 8/10
Singles (1992) (by AG; re-encode by DK)
Trailer
23rd Annual Genie Awards
Last Thursday was the 23rd Annual Genie Awards. The full list of winners and nominees is here.

David Cronenberg won the direction award, but wasn't there to accept it (reason unknown).

Some interesting winners (click name to watch the acceptance speech):

Academy Awards Nominations
The nominees for the 75th Annual Academy Awards have been announced. The complete list is here and there's nothing surprising about it. Most of the nominess are the same as the ones for the recent Golden Globes.


You can also see the list on oscars.org and IMDB.

The ceremony will be hosted by Steve Martin on March 23rd.

The "big" nominations:
Razzie Awards Nominations
The nominations for the 23rd Annual Razzie Awards (Dis-Honoring Worst Achievements in Film for 2002) were announced. The complete list is here.

Like every year, the Razzie Awards nominations and winners are announced 24 hours before "that other award".
Dead Ringers Stuff

Check out this interesting Behind the scenes page for Dead Ringer. It's from the Cronenberg site The Operating Theatre and apparently the original source for the 2 Behind the Scenes photos published here quite some time ago, so credit goes to this wonderful site.
New Photos

Added 2 photos to Cameos, from Jason X.
Vienna Film Museum
A few days ago, on February 1, I mentioned the retrospective to David Cronenberg in Austria, which is still in progress.

Leitich, a nice guy, who is also the film editor of derstandard.at/kultur, was flattered and surprised to see it mentioned here. He wanted to let you know that the best website to link to is The Austrian Film Museum, where the retrospective is shown.

He also refers us to an online Cronenberg-specific article, which is supposed to be more funny than accurate. The article is in German.
Zwan CD/DVD Released
After the break-up of excellent rock band Smashing Pumpkins, lead Billy Corgan formed a new band - Zwan.

It includes Chicago indie rockers Dave Pajo (guitarist for Slint/Tortoise), Matt Sweeney (guitarist of the excellent Skunk Anansie), bassist Paz Lenchantin and fellow Pumpkin drummer Jimmy Chamberlain.

Their first CD (and DVD), Mary Star of the Sea was released last week and will be followed shortly by the first single, Honestly.
Interviews with Miranda Richardson and Gabriel Byrne
Ashbrg (neural-surged) brings us two interviews about Spider.

The first interview is with Miranda Richardson:


Q: You once did a one-woman theatre production. Did you see playing [spoiler:] three roles [end spoiler] in "Spider" as a chance to do a one-woman film?
A: [Laughing] No, no - team player me, team player!

Q: How come you were attached to the film before David Cronenberg?
A: The producer, Catherine Bailey, approached me. I'd worked with her doing a radio production for the BBC and she'd mentioned the script. We read it at [screenwriter] Patrick McGrath's house a couple of years prior to doing the film. Ralph [Fiennes] was also involved in that reading, but David wasn't attached at that point. Everything then went very quiet. But further down the line, it suddenly was all happening. Catherine had approached David - who she thought was the right man for the job. He loved the project and she said, "This is who we're thinking about casting,". He said great, and the rest is history.

Q: How was your experience of working with David Cronenberg? Is he very controlling?
A: No, I felt very free - you come to the set in a spirit of play. You know what the script is and you're not going to depart radically from it, but David is always fascinated, delighted, and interested in what the actors are doing. He notices everything - it's very gratifying.

Q: What did you bring to your performance that wasn't originally there?
A: Well, David kept a lot of the improv stuff. When Gabriel Byrne and I are messing about and falling over each other walking down the street - we made that stuff up. It made its way into the movie so he obviously felt it was appropriate. It's always fun; to feel you've contributed in that way. The last time I felt like that was in [Robert Altman's 1996 drama] "Kansas City". Rob told me to go away and think about this scene for a few days. I had to write a speech for my character and it was included in the movie. It's great to feel like you've made a very muscular contribution to what you're doing.
The second interview is with Gabriel Byrne:


Q: What attracted you to Spider?
A: David Cronenberg, specifically. There are very few directors like him left, and cinema needs Cronenbergs. If you look at the history of the movies that he has made, they have all been movies that have in some way challenged the received notion of a particular thing, and forced you to really look. It's more important to shock and outrage for valid reasons than it is to, say, make a conventional film. I don't think David Cronenberg is even capable of making a safe, conventional film.

Q: Spider takes place on different planes of reality. How difficult is that to play?
A: It's actually pretty complex, because there's two levels of reality in the narrative. One is what really took place, and the other is Spider's poisoned version of what took place. And then, I suppose, there's also a cinematic reality on top of that. Because it was extremely difficult to keep tabs on, it was quite confusing acting that.

Q: We see your character doing bad things, but David Cronenberg says you're playing a good man. What's your interpretation?
A: It really depends on who's doing the perceiving. RD Laing said madness was a sane response to an insane situation, so who's to say that Spider is bad or good? Or that my character or Miranda Richardson's character is good or bad? But I'll tell you one thing: it's a very interesting theme to be playing around with.

Q: We've seen you in some big budget films recently, like End of Days. Do you do those in order to do a film like Spider?
A: The only way you can continue to make artistic films is to make an occasional one of those. They kind of keep your marketability going to the extent that people will employ you. I don't think we're living in great times for movies, to tell you the truth. I mean, somebody told me the other day that David Cronenberg hadn't made a film for three-and-a-half years and that he was seriously thinking of going into a different occupation. That's kind of sad when you think about it.
David Cronenberg Retrospective
Schubi refers us to a huge Retrospective to David Cronenberg in Austria, which opened Friday with the screening of Spider.

During the next 3 weeks they will have about 40(!) screenings of Cronenberg-related movies: All his feature films since Stereo; Movies he acted in (Regina Versus Logan and
Don McKellar's Blue (1992)); The documentary David Cronenberg: I have to make the Word be Flesh; And 3 different lectures.

Now that's what I call a retrospective. Way to go!
Site Statistics
Some statistics about the site and its visitors:

• The site contains 1273 files, weighing 17.3MB.
• It currently has about 42 unique visitors daily.
• Most of the known (that also means excluding US) visitors are from (in order, from left to right):


















As always, you can take a look at the News Archive (link is at the bottom of this page) to see the site's history.
DK's Recommendation
Spider (2002)

More details on February 22.
DK's rating: 8/10
Trailer: See December 11 or IMDB
OST
---
DK's Recommendation
Singles (1992)

More details on February 20.
DK's rating: 8/10
DVD | OST | Download | Trailer
---
DK's Recommendation
This is Spinal Tap (1984)

DK's rating: 8.5/10
Trailer: 300k / 56k
DVD | OST | Download | CD | Site
---
DK's Recommendation
Carlito's Way (1993)

DK's rating: 7.5/10
Trailer 1 | Trailer 2
DVD | OST1 | OST2 |
CD1, CD2 (Subtitles)