New Rabid Special Edition DVD on June 1st
Melisa Richter, a Canadian PR, sent me a press-kit for the new Rabid Special Edition DVD. As mentioned on March 25, the new DVD will come out on June 1.

Most of the press-kit contains known biography about Cronenberg. Here is some info about the new DVD itself, as appears there:

"Rabid comes to DVD, digitally re-mastered in this special edition loaded with extras on June 1, 2004 from Somerville House Releasing. Cronenberg painstakingly checked frame by frame the colour and quality of the digital master making Rabid a true signature of his craftsmanship and cinematic standards. Special features include an interview and one-of-a-kind director's commentary by Cronenberg, a new Widescreen transfer in English and French version, theatrical trailers, a photo gallery, production stills and more..."

You can pre-order the DVD on Amazon for $21.
Remake of The Fly
A bit of old news, from September: Fox Searchlight has annouced a remake of The Fly.

Todd Lincoln writes the scripts and directs. The studio began setting up meetings with him as they watched 28 Days Later (2002) becoming a summer sleeper hit. Lincoln's resume consists of commercials, shorts and music videos. This remake will be his first feature. I checked out his Official Site and in my opinion his work was very far from impressive.

Lincoln, an avowed horror buff, says he admires the 1958 original The Fly and David Cronenberg's 1986 remake. He says: "This is certainly inspired by the original, but it's a total re-imagining" and adds: "Why, in both films, did the fly never fly?"

I think it speaks for itself. Nothing much that I can add. Oh, the horror... the horror...

Some biography about Todd Lincolm:

Born in Tulsa, Oklahoma in 1976, Lincoln attended the USC School of Cinema/Television. He later wrote and directed a pair of critically acclaimed independent films, The Honey Pot and Xavier. With Jeremy Lamberton he created the Tulsa Overground, an annual international film festival showcasing the most innovative short films and videos. Lincoln's own work drew the attention of HKM Productions in Los Angeles, which led to his signing for commercial and music video directing. His commercial work garnered him a spot in the top five Directors to Watch by Boards Magazine. His Japanese music video for pop sensation Judy and Mary was the most requested video on MTV Japan. His Imperial Margarine spot was recently awarded the Bessie for Canada's commercial of the year, and was included in the annual commercial industry Verbotten reel for excellent banned, censored, or controversial work deemed too hot for air. Lincoln's latest award-winning short film, Leave Luck to Heaven was one of the featured works at Resfest.
DK's Commentary to The Fly (1986)
There it is. My own Commentary to David Cronenberg's The Fly (1986). It's intended for the 1CD rip, which is listed in the Movies section (95 min, 37 sec, running at 23.976 fps).

Bare in mind that I recorded it as a test. This is the first time I tried it, and I did the entire recording in one take and on the first try. I'm sure a second recording would have sounded a lot better, but I preferred to keep the "first take", which is a lot more spontaneous.

I have to say that making a commentary is harder than it seems. It's not easy to stay focused on the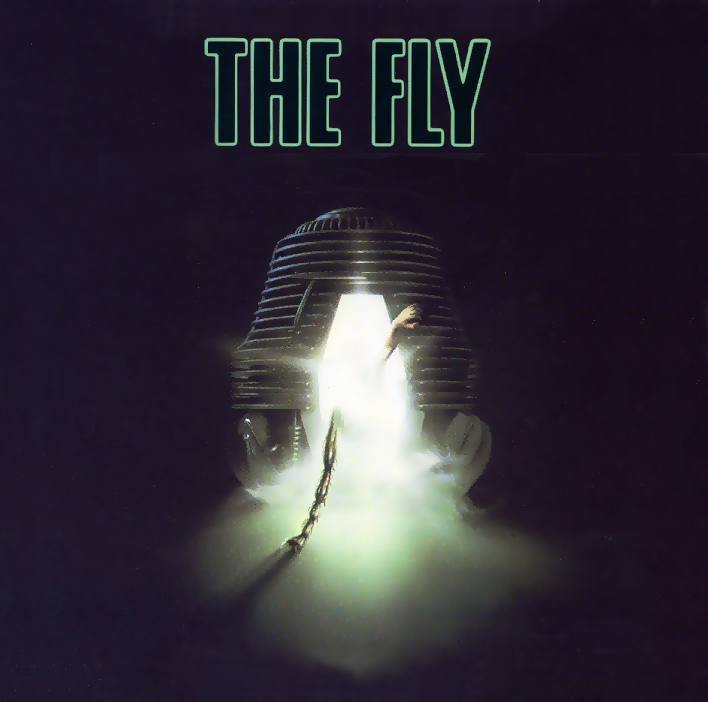 movie while recording. It also took a lot more work than I expected to clean the noise out of the recording (cheap mic...) before mixing it with the soundtrack.

I'm not sure how many of you would be even interested in this commentary at all. And those of you who would - I hope you won't find it boring. Please give me feedback (either good or bad) on the board.

In order to watch the movie with the commentary, download a player such as BSPlayer, which can play the movie while using an external audio file (Shift-L).

The Fly (1986) - Commentary Track by DonkeyKong
Format: mp3, 96kbps, CBR
Language: English
Running Time: 1:35:37
Size: 66MB
Fans Commentaries
DVD Tracks is a site with an original idea: It encourages fans to record their own "commentary track" for their favorite movie. The result is really interesting.


Although the site is not very active anymore, I recently listened to GhettoExorcist's commentary for The Exorcist and thought it was really cool.

I decided that if I'd find the time and movie to talk about - I'll record a commentary as a test. Well, I did just that, for Cronenberg's The Fly. I'm currently mixing it and expect to have it ready soon. Hope some of you would be interested.
Holocaust Remembrance Day

In memory of my 16 family members and the 6 million Jews who were murdered by the Nazis.

May god revenge their blood.



Visit Yad Vashem
Cronenberg to Direct London Fields
David Cronenberg, currently preparing to direct A History of Violence, has signed on last month to direct a film adaptation of the novel London Fields by Martin Amis.

Scripted by Roberta Hanley and Martin Amis, the story follows Nicola Six, a psychic that is never wrong. One night she meets two men in a seedy London pub and has a premonition that one of the two will kill her, but she doesn't know which. So, she decides to systematically humiliate both.

Muse Productions and Metro Tartan are currently in talks with several distributors to pick up the movie, and are also just beginning to cast it.


Chris Hanley and Hamish McAlpine will produce. Lily Bright and David Guy Levy will executive produce.


A month earlier, Cronenberg has agreed to direct an adaptation of the DC Comics/Paradox Press graphic novel, A History of Violence (1997) by creator John Wagner (Judge Dredd).

First optioned by New Line Cinema back in September 2002, writer John Olson was hired to adapt the book into a screenplay a year ago.

The story is about a diner owner named Tom McKenna who stops a robbery in his store by killing the thieves in self-defense. But when McKenna's act receives national attention, the ghosts of his former life return to haunt his family in the present.

Another one of the three crime tales published by Paradox was Road to Perdition which was turned into a DreamWorks film that starred Tom Hanks.
The Exorcist Prequel
Morgan Creek International are going to release both versions of Exorcist: The Beginning (2004) at the same time - one in cinema and the other straight to video. Here is the full story:

The long-awaited prequel to the original The Exorcist (1973)
got a greenlight on February 2001. Writer-director Paul Schrader (Taxi Driver (1976), Raging Bull (1980), Affliction (1997)) made it clear in interviews that he was making more of a psychological drama than a gore movie.

Still, after finishing production on the movie and handing it to Morgan Creek, they fired him (August 2003) because he had given them "footage without any of the bloody violence the backers had wanted". This production cost $54 million.

They hired director Renny Harlin (Die Hard 2 (1990), Cliffhanger (1993), Deep Blue Sea (1999)) to re-shoot the movie from scratch. Almost 90% of it was re-shoot and several characters from Paul Schrader's version have been dropped of the movie. The cost: $40 million (according to IMDB).

Harlin's version will premiere on August 2004 in US cinemas, while at the same time Schrader's version will be released on DVD.
DK's Recommendation: Capturing the Friedmans (2003)
(Although this movie is a documentary, showing real events, some people may treat the details of the "plot" as spoilers, or just wish to know as little as possible as to not influence their judgment. For
those I used the *** Spoiler *** warning).

Let me begin with the only flaw this movie has: Wrong aspect ratio. For a movie that is largely based on home-made clips, the choice of presenting it in wide-screen is awful. Instead of making it full-screen or leaving black bars on the sides, the maker decided to crop the top/bottom areas of the image, causing such phenomena as people's heads getting out of the frame frequently.

Capturing the Friedmans (2003) is a chilling experience and one of the best documentaries I've seen in recent time. While watching it for the first time, it didn't strike me as one, until the middle of it. After it was over I had trouble sleeping and I kept thinking about it.


Subconsciously, this movie works on many levels and it raises a huge amount of issues and questions. I'll try to list some of them.

The movie actually takes you back in time. The amazing opportunity of seeing all the events as they actually happened - by video, not by stories or actors recreating scenes - literally makes you feel you're watching the events as they happen in real time. While the family members' decision - to film all the events as they happen - may have been seen strange at the time, it gives us an opportunity to see something you can only imagine. Something horrible that you never expect to reach you. It shows you how a family is dealing with a series of events that seem surreal. You see how each member deals with the events, some of them standing helpless in front of them.

Director Andrew Jarecki's way of presenting the events is very intelligent. His technique is first to show an event and the obvious reactions. That way you can "clean" your mind of the thoughts that run
through it and you're ready to absorb another point of view. He shows you that the initial reaction affects your judgment and might cause you to make wrong decisions. And this is what the movie is about.

Jarecki always shows both sides of the argument. He doesn't pass judgments like many
documentaries do, but instead presents you with different views and opinions, raising the questions you want to ask, and letting you judge for yourself.

Taking into consideration the huge amount of stock the director had to deal with and the limited time he had to present it, in the form of a film, one should give credit to the director for being able to cover such a wide range of events and never getting boring.

From a family-unit aspect (and with no connection to the crimes discussed), this movie raises many relations, situations and questions that any viewer would find familiar. A dysfunctional family that seems to be ideal on the outside, but the more you get familiar with it, the more you learn about the secrets and weights that each member carries: *** Spoilers begin *** A mother that admits she didn't think she'd been suitable to raise kids; Brothers that are very close to each other and to their father, who seem to almost think and act as one person at times, while the mother feels an outcast in her own family; Brothers (Arnold and Howard) who grew up in a very unhealthy environment (a promiscuous mother, death of a young sister, unnatural sexual experiences); Watching something horrible happening to a member of your family without being able to help him (the segments of Howard, Arnold's brother, are heartbreaking as he's helplessly watching his brother "drown" in the abyss of events); David, working as a clown to make children laugh while his family is quickly falling apart. *** Spoilers end ***


The family's videotapes are unbelievably personal (David's recorded speech to his future-self is easily the best example, and it shows a huge courage on his behalf, in allowing the director to show it to the world in this documentary). You follow the family as the events are happening. You see how the people actually deal with events that are too hard to bare, and how surreal everything becomes. At one point, people are calling the family on the phone, leaving death threats and extreme hatred on the answering machines. Anyone who has ever been boycotted can easily understand how it feels. "Chaos", as Elaine says, when asked to describe it in one word.

Another issue that rises is the loyalty to the family. Are you willing to stand by your loved one if you're not sure he's innocent? Are you willing to lie in order to help him? Will you do all that even if you don't believe his innocence yourself?

From the law respective, I think this movie is a must-see for any student who wants to work in the law field in the future. Is the truth always that simple? Can you stay unbiased while everyone is claiming to know what the truth is and how obvious it is? Can you judge without getting a revenge for previous cases? Can you actually accept new ideas and consider new facts after you've already formed your decision?


The movie also shows how a bad decision can change your life. Like a snowball rolling down a hill, *** spoilers begin *** The lawyer starts with a bad decision, making the father admit crimes he claims he haven't done, sacrificing himself to save his child, while actually causing, at the end, a bigger damage *** spoilers end ***

At the end of the movie, it's still unclear what really happened. You can't tell who lies (and that includes the family members, the policemen, the different witnesses, and the lawyers), who's telling the truth, and who's got a distorted grasp of reality - what really happened in the computer room? have uncareful police/doctors interviews affect a young kid's memory (studies have proved that it's extremely easy, even without intending it to happen, to plant false memories about events that never happened)?

And of course, the obvious and major question this movie carries: Can you blame someone for certain events, only because you know his personality and way he thinking and because you hate him?

This movie is simply a must. For law students, for members of a family, for any person.

DK's Rating: 9/10

Capturing the Friedmans (2003)

Official Site
Jesse Friedman's Web Site
IMDB
Trailer - Site 1: 56k / 160k / 300k
Trailer - Site 2: 56k / 100k / 300k
DK's Recommendation
Capturing the Friedmans (2003)