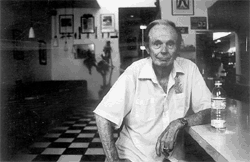 Hubert Selby Jr., the acclaimed author of Last Exit to Brooklyn and Requiem for a Dream, has died Monday at his home in Los Angeles at the age of 75.

The author, who had been in and out of hospital in recent weeks, died of chronic obstructive pulmonary disease.

Hailed as one of the greatest American writers, Selby died peacefully with Suzanne, his wife of 35 years, by his bedside.

He is survived by four children and 11 grandchildren.

More info on BBC News.