Official Release Date for The Fly Special Edition DVD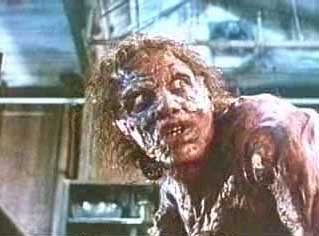 The release date for The Fly Special Edition DVD, posted here 5 days ago, is now official. The 2-set DVDs for both The Fly and its sequel, The Fly II will be released on September 27.

As it turns out, the info Frothma got a month ago was accurate.

You can already pre-order both sets from Amazon, for $14 each.

More info can be found on DVD Times.
Release Date for The Fly SE DVD?
According to The Rumor Mill, The Fly Special Edition DVD is expected to be released on September 27.

We currently don't have any confirmation for this by David Prior.

According to the source above, The Fly and its sequel The Fly II will be released as Special Edition, each a 2-disc set at a cost of $26.

Here is what you can expect to find on The Fly set:

A 1.85:1 anamorphic widescreen video with both Dolby Digital and DTS 5.1 audio.
Audio commentary by director David Cronenberg
the Fear of the Flesh: The Making of The Fly documentary (broken into 3 featurettes: Larva, Pupa, Metamorphosis)
4 deleted scenes (Second Interview, Monkey-Cat, Brundlefly vs. Bag Lady, Butterfly Baby/Alternate ending)
Test footage videos (Main Title Elements, Telepod Tests, Make-Up Tests, The Exploding Head and Cronenfly)
15 featurette clips available via an optional branching mode while watching the film (including A Radical Departure, The Rise of Marketing, Who Wants to Die?, All You Have to Do is Be Passionate, Cronenberg's Preparation, On Cronenberg's Films, Cronenberg as Gynecologist, Cronenberg as Director, On the Cannes Jury, The Mother of Invention, It Takes Time to Spread the Goop, Glass-Break Test, Scotch & Razor Blades, Genes in the Ether, Winning the Oscar, The Last Collaboration, Haunted by the Fly and The Brundle Museum of Natural History)
A number of interactive written texts (including George Langelaan's original short story, Charles Edward Pogue's original screenplay, David Cronenberg's rewrite, the Cinefex article The Fly Papers and the American Cinematographer articles New Buzz on an Old Theme and More About The Fly)
A gallery of poster and lobby cart art
A gallery of production photos and concept art
9 trailers and TV spots
David Cronenberg Profile featurette
2 Easter eggs (Halloweener and Vomit Drop)
A look at genre films from the Summer of 1986 (including Big Trouble in Little China and Aliens, as well as The Fly).

Thanks to jacob and chris for pointing this out.
First Artwork for Cronenberg's Painkillers
Todd, from Twitch, scanned the first artwork for David Cronenberg's movie in production Painkillers.

He writes: "It's too small to make out in these shots, but that lettering across the body is actually stitching..."

Click the photo on the right for full size.

Big thanks to Thomas Treasure for reporting this.
Anne Bancroft Dead at 73
Legendary actress Anne Bancroft died of cancer yesterday at age 73.

She is survived by her husband, director Mel Brooks (whom she married in 1964) and their son, Maximilian Brooks.

More info here.
DK's Recommendation
Playing by Heart (1998)

DK's rating: 7/10
---
DK's Recommendation
12 Angry Men (1957)

DK's rating: 7.5/10
---
DK's Recommendation
The Invisible Man (1933)

DK's rating: 7/10
---
DK's Recommendation
The Changeling (1980)

DK's rating: 7.5/10