Minus Nimbus - Rikk Roberts' Official Site
Rikk Roberts is an artist from California who also happened to be a huge Cronenberg fan.

One of his creation is a sculpture of a Mugwump (from Naked Lunch) that is now on dispaly at the Echo Gallery in Chicago.

He sent us the photos (which were taken in a rush) that you see here - click the thumbnails to see full size.

Don't forget to check out his Minus Nimbus site for other great works.
Find my Throat - Brandon Cronenberg's Official Site
A visitor of The Plasma Pool (who prefers to remain anonymous) tipped us about an interesting site, called Find my Throat, by an artist named Brandon Cronenberg.

I checked with him and he has no relation to David Cronenberg. Still, the weird creatures, mutants and body-oriented drawings indicate a similar taste and the site presents some really nice works that are worth checking out.
Upcoming Stereo and Crimes of the Future European Release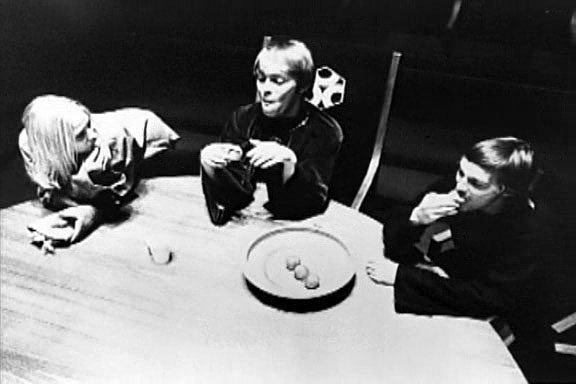 Ruth Timmermans from Filmfreak Distribution in Holland tells us about an upcoming European release of David Cronenberg's early movies Stereo (1969) and Crimes of the Future (1970).

The release will be in Automn 2006 and will contains subtitles in French, German, Dutch and Spanish.

More info will be available soon on Reel23.
Muppets: Statler & Waldorf
movies.com put a great new weekly movie-review show with Statler & Waldorf and other guests from The Muppets.

The show is called From the Balcony and is highly recommended.
DK's Recommendation
Laurel Canyon (2002)

DK's rating: 7/10
---
DK's Recommendation
Spring, Summer, Fall, Winter... and Spring (2003)

DK's rating: 7/10