Actor Vincent Schiavelli Passes Away at Age 57
Vincent Schiavelli, the droopy-eyed character actor, died Monday of lung cancer at age 57 at his home in Polizzi Generosa, Sicily, Italy.

New York-born Schiavelli, whose gloomy look made him perfect to play creepy or eccentric characters, made appearances in almost 100 movies and was a regular in Milos Forman movies: he appeared in Taking Off, One Flew Over the Cuckoo's Nest, Amadeus, Valmont, The People vs. Larry Flynt and Man on the Moon.

He also appeared in such movies as Fast Times at Ridgemont High, Night Shift, Ghost and Batman Returns.

In 1997, Vanity Fair selected him as one of the United States' best character actors.

Schiavelli also wrote a few cookbooks and many food articles for magazines and newspapers.
More I Kill Rumors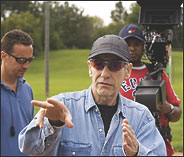 Although IMDB lists I Kill (2006) as the next project by David Cronenberg (which was also supported by an article on badtaste.it), some concrete reports claim that Cronenberg passed it after reading the book. According to these reports, he was the guest of honor in a Q&A at Walter Reade theatre recently and said he was not going to do this movie.
Forum Restored

The forum is now restored (and also upgraded to phpBB 2.0.18). Please report any problem you encounter.

Enjoy your staying.
Forum Hacked by an Arab Hacking Group
Apparently, some people are either too bored or just have to make this a religious war.

If you tried to check the forum and got a message saying "You have been banned from this forum", this is because the forum has been hacked by a group called Islam hack team (they bothered to put their name there... I guess hacking sites in the name of Islam is a good thing).

For those of you who know a thing or two about hacking, doing this on a phpBB forum is extremely easy... and stupid too. But apparently some people think otherwise.

I have a backup of the forum from Sunday, so no problem there. However, the webhost itself is not very friendly and I have hard time accessing the files and database.

I'll try to fix the problem.
Fellowship of the Ring Complete Recordings
3 Days ago, a box set of Howard Shore's "complete recordings" to LOTR: Fellowship of the Ring has been released. It features over 180 minutes(!) of music on 3 CDs plus a DVD-Audio disc of the entire score in surround sound.

Amazon sells it for $48.
Pandora Music
If you like listening to songs while you work or rest, check out the Pandora site. This amazing and FREE project contains an incredible amount of songs from every band you can think of. It lets you create an account with your favorite bands and plays FULL songs in a stream, just like a radio station.

But that's not all. Based on your selection, it plays songs of others bands that are close to your music taste. It lets you mark each song with "I like it" or "I don't like it" and I have to say that it does an excellent job in pinpointing your music taste.

This is a great way to enjoy your favorite music and also discover more bands you weren't falimiar with. Highly recommended!
Producers Die Young
If you've watched the excellent TV series Action (1999-2000), starring Jay Mohr, you already know that producers are found under a lot of stress. The past week proved it twice (ok, so it's not necessarily because of the pressure, but statistically speaking, being a producer seems to increase the chances of you dying young).

Last week, producer Gregg Hoffman (Saw, Saw II) died suddenly at the age of 42. This came only a month after he confirmed that there will be a Saw III.

2 Days ago, producer Robert Newmyer (Training Day, Sex, Lies And Videotape) died at the age of 49 of a heart attack, triggered by an asthma attack.
Golden Globes Nominees Announced
The nominees for the upcoming Golden Globes (January 16) were announced. The complete list appears on IMDB and the Official Site.

Some of the Leading movies:

| | | |
| --- | --- | --- |
| Brokeback Mountain | 7 | Picture, Director, Actor, Supporting Actress, Screenplay, Score, Song |
| Match Point | 4 | Picture, Director, Supporting Actress, Screenplay |
| The Producers | 4 | Picture, Actor, Supporting Actor, Song |
| Good Night, and Good Luck. | 4 | Picture, Director, Actor, Screenplay |
| The Constant Gardener | 3 | Picture, Director, Supporting Actress |
| The Squid and the Whale | 3 | Picture, Actor, Actress |
| Walk the Line | 3 | Picture, Actor, Actress |
| Mrs. Henderson Presents | 3 | Picture, Actress, Supporting Actor |
| A History of Violence | 2 | Picture, Actress |
| Munich | 2 | Director, Screenplay |
| King Kong | 2 | Director, Score |
| North Country | 2 | Actress, Supporting Actress |
| Memoirs of a Geisha | 2 | Actress, Score. |
| Syriana | 2 | Supporting Actor, Score |
| Pride & Prejudice | 2 | Picture, Actress |
| Crash | 2 | Actor, Screenplay |
| Transamerica | 2 | Actress, Song |
| Cinderella Man | 2 | Actor, Supporting Actor |
| The Chronicles of Narnia | 2 | Song, Score |
Comedian Richard Pryor Dies at 65
Comedian Richard Pryor died Saturday morning of a heart attack at Encino Hospital near Los Angeles, only days after his 65th birthday.

Pryor had been suffering from multiple sclerosis for years, and according to his wife, passed away very quickly with little suffering.

More info on IMDB and CNN.
Visit Richard Pryor's Official Site.
David Cronenberg Retrospective in Israel
During December, three of the biggest Cinematheques in Israel (Tel Aviv
, Jerusalem, Haifa) will conduct a Retrospective to director David Cronenberg.

During the month, the Cinematheques will screen 16 of his feature films, starting with Stereo (1969) and ending with A History of Violence (2005). The short movie Camera (2000) will also be screened.

Ticket price (for one movie) at the Tel-Aviv Cinematheque is 30 NIS for non-members. Here is their schedule:

| | | |
| --- | --- | --- |
| 1/12, | 22:00 - | Spider |
| &nbsp | 24:00 - | The Fly |
| 4/12, | 19:00 - | Stereo |
| 6/12, | 22:30 - | Crimes of the Future |
| 8/12, | 22:00 - | Shivers |
| 9/12, | 21:45 - | Dead Ringers |
| 11/12, | 22:00 - | Rabid |

| | | |
| --- | --- | --- |
| 14/12, | 22:00 - | The Brood |
| 15/12, | 19:00 - | Fast Company |
| | 24:00 - | Crash |
| 21/12, | 22:00 - | Scanners |
| 22/12, | 24:00 - | eXistenZ |
| 24/12, | 19:15 - | Naked Lunch |
| 25/12, | 22:00 - | M. Butterfly |

| | | |
| --- | --- | --- |
| 26/12, | 22:30 - | Videodrome |
| 30/12, | 21:45 - | Camera |
| | | A History of Violence |
| 31/12, | 19:45 - | Camera |
| | | A History of Violence |
An article about David Cronenberg
In honor of the upcoming David Cronenberg retrospective mentioned above, the popular Israeli online newspaper, Ynet wrote an
article about Cronenberg. In addition to some of his biography and review of his movies, the writer (Shmulik Duvdevani) had a phone conversation with the man himself.

Here are some interesting things mentioned there.

(the following is my free translation from Hebrew, so do bear in mind that the following Cronenberg quotes are not direct - they are translated from English to Hebrew and back to English):


About A History of Vioence:
"For 10 minutes, my credibility in Hollywood is raising. After the studio executives saw Spider, for instance, they were worried whether I'm the man they really want. They understand a movie like A History of Vioence much better. Thus, at the moment, I get offers from people who wouldn't have thought about me before, but at the same time I'm not very interested in them [the offers]."


About the Dead Ringers TV show:
"I might direct the pilot", he comments about the news. "Because of the success of Nip/Tuck - which I haven't seen, but heard of - the idea of a strange medical melodrama suddenly seems attractive to HBO. The script is currently written by Wesley Strick and the deal is that I will be the executive producer."


About the Oscars:
Shmulik: "It seems that you were never that close to get an Oscar nomination [as you are now]".
Cronenberg: "That's very sweet of you to say that, and I think you are right. New Line is very enthusiastic in supporting the movie for the Oscars. The meaning of that is that you get to go to dinners in order to assure that people who vote will see the movie. There was never a studio or a distributer who supported my movie for the Oscars. So I thought 'OK, I'll do it, just for the experience and the fun'."
DK's Recommendation
Swimming with Sharks (1994)

DK's rating: 7/10

---
DK's Recommendation
Nuit Noire

---
DK's Recommendation
The Three Burials of Melquiades Estrada (2005)

DK's rating: 6.5/10

---
DK's Recommendation
Nine Lives(2005)

DK's rating: 6.5/10

---
DK's Recommendation
Transamerica (2005)

DK's rating: 6/10

---
DK's Recommendation
Shopgirl (2005)

DK's rating: 6/10

---
DK's Recommendation
Mrs. Henderson Presents (2005)

DK's rating: 6/10

---
DK's Recommendation
Broken Flowers (2005)

DK's rating: 6/10

---
DK's Recommendation
The Field (1990)

DK's rating: 9/10