James Cameron Talks about 3D and Piracy
From IMDB:

Digital 3D cinema could be the motion picture industry's strongest defense against piracy, director James Cameron said Sunday. Speaking at the National Association of Broadcasters' Digital Cinema Summit in Las Vegas, Cameron said that Digital 3D "offers a powerful experience which you can only have in the movie theater".

He lauded technology that permits virtually any film to be transformed into a 3D version, and indicated that he is considering releasing his 1997 blockbuster Titanic in 3D.

"Digital 3D is a revolutionary form of showmanship that is within our grasp. It can get people off their butts and away from their portable devices and get people back in the theaters where they belong", he said.
Holocaust Remembrance Day

In memory of my 16 family members and the 6 million Jews who were murdered by the Nazis and their supporters.





Visit Yad Vashem
Confirmed News about the Status of Cronenebrg's Next Projects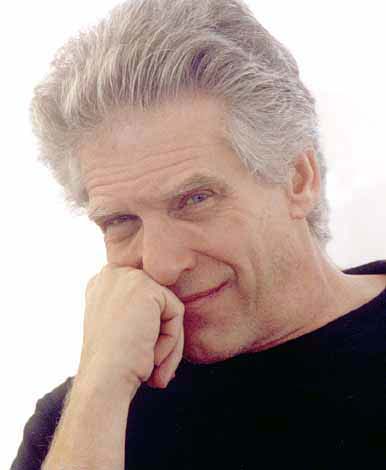 A month ago, David Cronenberg was interviewed by the Toronto Star about his next projects and gave some more accurate details on what is currently planned.

Here is a quick summary:

Maps to the Stars will probably be Cronenberg's next movie. The only thing that could stop it from happening is if they can't get casting or financing. The earliest Cronenberg could be working is probably September.

Eastern Promises is being rewritten right now by Steve Knight (a writer that Cronenberg appreciates), hopefully with Cronenberg making the movie, but it's not certain at the moment. This movie has a priority for Cronenberg.

London Fields is still a possibility. There is a script and cronenberg is interested in it and it's about third in line.

Red Cars: Check out www.redcars.it - Cronenberg's script is now a coffee table book for fans of Formula One or Cronenberg's work. Cronenberg would be happy if some producer wanted to make it into a movie, but so far no one has.

Painkillers is dead. It's a script he wrote around 2000 and have disconnected from it. Robert Lantos announced it at Cannes in order to make Cronenberg excited about his own project again. They both agreed to let it die. It still exists as a script, but that's it.

I Kill doesn't exist. Cronenberg read the novel and the script and wasn't impressed by either of them. He doesn't want and never had any intention of doing it.

(Credit goes to Leo Faraon and to the Cronendrome)
RSS Feed Support
I'm adding an

support to the site (see the button at the upper-right side of the screen) to help you keep up to date with the news and movies recommendations.

Since I currently have no automatic tool for analyzing the site, I'm updating the RSS manually, so take that into consideration and keep checking the site itself, in case the RSS ceases to work. Also, please report any mistake or problem you may encounter with your RSS reader.

RSS (Really Simple Syndication) is a format for syndicating news and the content of news-like sites. If you're not familiar with it, you can read more about it on Wikipedia and xml.com.

There are many free RSS clients on the net. I recommend SharpReader as a free and simple reader.
Forum is Down (again)
I understand that people are starting to wonder why they have been blocked from the forum. Well, you haven't. It's been down in the last week or so, and I suspect it's the result of yet another attack by someone really bored.



It seems that fixing it requires building the whole forum. I have a backup, but not the time to do it right now. The very low activity on the forum doesn't make it a huge attraction either, so we'll see when (and if) I'm gonna rebuild it.

Until then, enjoy your staying and feel free to mail me if you have some exciting news that you want me to post on the site, to be shared with the other fans.
Inside Man (2006)

DK's rating: 6/10

---
Ichi the Killer (2001)

DK's rating: 7/10

---
Spider Forest (2004)

DK's rating: 6/10

---
A Bittersweet Life (2005)

DK's rating: 7/10

---
Inside I'm Dancing (2004)

DK's rating: 7/10