Brad Anderson to Direct The Edukators Remake
According to The Hollywood Reporter, director Brad Anderson (The Machinist) has agreed to direct the remake of Hans Weingartner's political German film The Edukators.

The movie was released domestically last summer and centered on 3 youths whose concern over global capitalism leads them from acts of protest to serious crime.
New Todd Solondz Film
According to Cinematical, director Todd Solondz has started working on his new film, currently known only as New Todd Solondz Film.

According to Solondz, the film will serve as sort of a companion piece to Happiness and Welcome to the Dollhouse. He says, "Many of the characters from these movies unexpectedly beckoned to me, and so I have explored new ways of developing and enlarging their stories, with the intent to recast them from a fresh perspective".
Naomi Watts joins Viggo Mortensen in Eastern Promises
According to The Hollywood Reporter, actress Naomi Watts has signed on to star alongside Viggo Mortensen in Eastern Promises, a crime-flavored drama from director David Cronenberg that Focus Features is selling internationally.


In the film, a 14-year-old girl dies on Christmas, giving birth in a London hospital. The hospital's midwife (Watts) sets out to find the girl's family for the orphaned child. Her search takes her to London's shady Russian crime community and to a Russian crime boss (Mortensen) who is not what he seems.

Scripted by Steve Knight, the movie was developed by the BBC before being picked up by Focus Films, which will produce the project and release it stateside.

Shooting is set to start in November in London.

(Credit goes to Paola)
Cronenberg at Cannes Film Festival
David Cronenberg is in Cannes this year to receive the Carrosse d'Or, the lifetime achievement award from the festival's Directors' Fortnight sidebar, which was awarded Thursday night.
Photos of The Fly and Cronenberg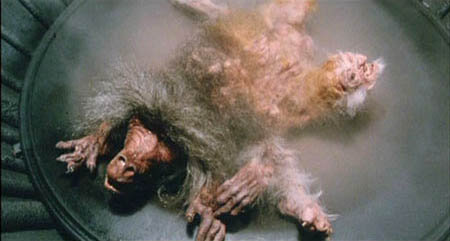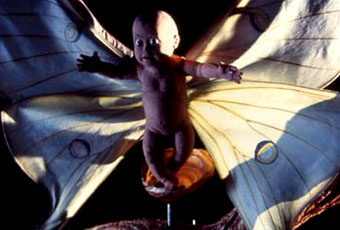 Added 1 photo to Misc - David Cronenberg with journalist Staci Wilson.

Added 6 photos to The Fly: 4 photos of props and 2 photos of deleted scenes (the monkey-cat and the butterfly-baby).

The Fly photos are taken from the Special Edition DVD and the credit goes to ecranlarge.com, which also made a great comparison of all the three available DVD releases (Zone 1, Zone 2, Special Edition) for the movie.

Another review of the Special Edition DVD can be found on dvdmaniacs.net.
The Memory of a Killer (2003)

DK's rating: 6/10

---
The Station Agent (2003)

DK's rating: 6.5/10

---
The Weather Man (2005)

DK's rating: 6/10

---
The Producers (2005)

DK's rating: 6/10

---
District B13 (2004)

DK's rating: 6.5/10