Eastern Promises - Theatrical Trailer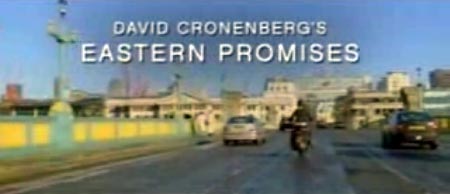 Here it is -
Theatrical Trailer for Eastern Promises
(Credit goes to Cronendrome for spotting this)

I'm sorry to say that, but it looks bad. Not only this movie. Like I suspected, A History of Violence seems to mark the death of the old Cronenberg that I (and I guess most of his old fans) loved, and the re-birth of a new Cronenberg that is located in the very center of the mainstream. I expected that after watching A History of Violence, then again after reading the plots to Eastern Promises and Maps to the Stars.

I hope I'm wrong. I really do. It would be such a waste of this genius' talent...
Adam Resurrected Shooting Wrapped
Paul Schrader finished shooting his new movie Adam Resurrected yesterday.

After shooting in Germany and another month in Romania, the production moved to Israel in the beginning of June. Jeff Goldblum arrived a few days earlier in order to spend some time in Tel-Aviv and then moved to the Dead Sea area to shoot in the desert (watch on-location video containing interviews with the cast (Goldblum, Derek Jacobi, Ayelet Zurer, Hana Laszlo, Idan Alterman) and crew (director Paul Schrader, novel writer Yoram Kaniuk, and producer Ehud Bleiberg).

The wrap party took place yesterday, less than 2 hours after the final shot (watch the wrap party).

According to IMDB, the movie will be released in 2008. According to the producer's site, it will be released in 2007.
New Rating Categories
Since I've heard some of you out there actually like my movies recommendations and the Awards section, I decided to try a new "rating system", which will serve as an additional means of recommendation (it won't replace my usual "recommendations" section on the main page, don't worry).

As you know, each year in the Awards section shows the "Movies that were considered", which lists all the movies that I watched and were produced in that year. So instead of just putting them into one big pile, I'll start to split them into 3 categories:


| | | |
| --- | --- | --- |
| Category | Lists the movies that I rate | What does it mean? |
| The Good | 5.5/10 and above | These are movies that I recommend you to watch. |
| The Bad | between 4.5/10 and 5/10 | Thses are movies that I consider less than average. You might want to watch them if you're in the right mood to pass the time with nothing special. |
| The Ugly | 4/10 and below | These are movies that I recommend you to avoid. |

Right now you can see this new system for the years 2007 and 2006.

I hope you will like the new rating system and find it useful.
DK.
Eastern Promises Mini-Teaser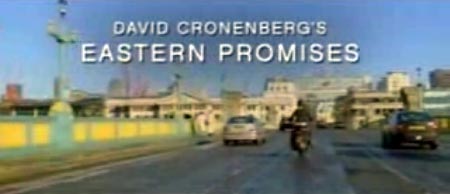 Focus Features' "Coming Soon" ad for 2007 features a 10-seconds mini-teaser for David Cronenberg's Eastern Promises.

I put up 7 snapshots from this teaser in the photo section.

You can watch this teaser on YouTube (the relevant clip is in 0:50-1:00)
Taxidermia (2006)

DK's rating: 7/10

---
Notes on a Scandal (2006)

DK's rating: 6.5/10

---
Smokin' Aces (2007)

DK's rating: 7/10